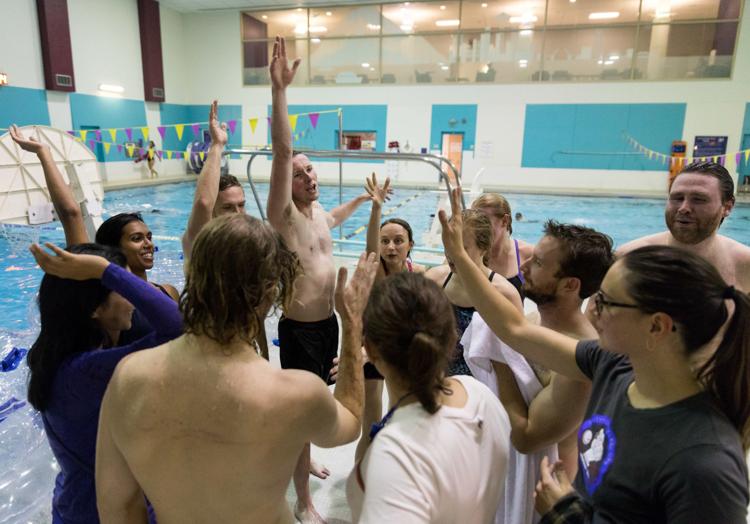 In one word? It's "ridiculous." In one sentence? It's "a stupid sport nobody's played their whole life."
More than either of those things, the IMA's innertube basketball league is an escape.
Just down the hill from the responsibilities of life on the UW campus is the stress-free, stress-relieving game of innertube basketball. Research papers and graduate requirements were mentally checked-in Thursday evenings this quarter for a "fun, goofy, approachable" game, in the words of Matt Johnson, a player for the CSE graduate team A Series of Tubes.
The fall intramural league consisted of six teams, most of which were made up primarily of returning players. One of those returning players was TJ Kennedy, team captain of the Slammin' Salmon.
There's an old saying that the only way to eat an elephant is one bite at a time. Grad school can feel like that sometimes, Kennedy said. He and students in his position — a majority of the players are graduate students — are constantly thinking about work, and he found innertube basketball could provide the rare instance of a headspace clear of work.
"Can't be having a basketball thrown at your face and be thinking about your research paper," Kennedy said.
Repeatedly, players said they appreciated how "present" innertube basketball was. For Robbie Weber, a player on A Series of Tubes, the appeal was similar.
"I can't write a proof while I'm being splashed in the face."
While it's difficult to imagine anyone being a fan of being splashed in the face, the primary form of defense in the sport, some may not mind it as much as others and Kennedy may just be one of those people.
"It's water all around for me," he said.
Before coming to the UW for his masters in marine affairs — the department his team is a part of — Kennedy swam at the Coast Guard Academy where he studied marine and environmental sciences.
Kennedy's team has taken to calling itself the Slammin' Salmon Sharks — "Sharks" was added later, Kennedy explained, when another salmon-themed team name emerged in the league, the Coho Chanel (think Coco Chanel, team captain Sam May said), because sharks eat salmon.
The league held their playoff matches Nov. 14 and 21, where The Slammin' Salmon fell in the quarterfinals to Tyler and the Turtles 36-18. 
The other quarterfinal match (the league's top two seeds received byes) was a match between A Series of Tubes and More Concrete 6.0, a team formed by the Concrete Canoe club. More Concrete 6.0 advanced after a 44-22 win and a buzzer-beater pass to the face that left the whole pool laughing.
Passing is an essential part of innertube basketball, perhaps more important than passing is in regular, footed-basketball.
Most teams would keep two players stationed under or near each rim with additional players roaming from the middle as needed. 
Unlike dry, tubeless basketball, there is no three-point shot, meaning there's no incentive other than style-points to take a long shot. There's no dunking either, despite some players regularly cheering to see it happen anyway.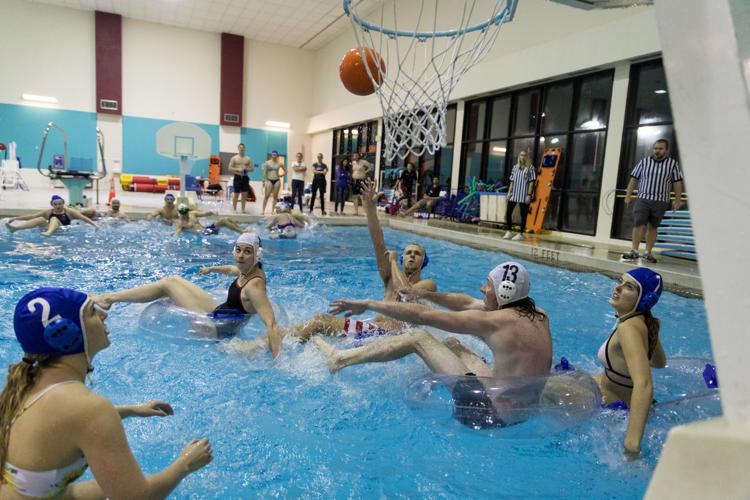 In fact, innertube basketball resembles basketball about as much as you might expect. A ball goes into a hoop, and that's about it. 
Instead of dribbling, there is a five-second rule for holding the ball. There's boxing (tubing) out and swatting, but most defense is splashing, which would almost certainly be a penalty in land basketball if it ever happened.
Another key in-game dynamic is that because the intramural league is co-rec, shots have to be made by alternating genders. Although shots were reliably called out in the binary "boy-shot" or "girl-shot," the IMA's intramural handbook reads students or other eligible players are permitted to play "in accordance with their expressed gender identity."
The accessibility and inclusion of the game were praised by multiple players. Kennedy admired the way it's playable regardless of one's athletic ability, unlike other sports and intramurals. And at least one player from each team mentioned that innertube basketball was more fun because everyone was on a mostly level playing field since it is not a sport anyone grew up playing.
As goofy as innertube basketball can be, it's not a game without strategy.
Taylor Bellefeuille, a player on DIKSOK, explained his team's strategy of changing their offense and who's in the frontcourt depending on whose shot it is. When it's a girl-shot, for example, they would send two female members forward with one male player, he said.
Bellefeuille touched on another, less conventional aspect of their strategy as well.
"We have a bit of a 'DeflateGate' going," Bellefeuille said. He explained how some members of his team would let some air out of their innertubes, a practice that is not a violation of any particular rule of the sport, but not appreciated by IMA staff.
Bellefeuille said this allows them to sit lower to the water, an apparent preference for some. He also said it contributes to flipping in the tubes less, an occurrence that happens several times each game, including 10 times in the championship match.
Whether the air in the tube made a difference is unknown, but whatever DIKSOK was doing each game worked. The team won the league after never dropping a game and holding the season high-score at 52.
The championship match was a rematch between Coho Chanel, seeking a three-peat, and DIKSOK. A team of seniors, DIKSOK returned this year "ready" to win, they said, after learning the sport for the first time last year and finishing second.
DIKSOK — whose team name the players claim has no real meaning but began as a house name for the friend group, a play off the Greek letters "Delta Iota Kappa Sigma Omega Kappa" — advanced to the finals after a 47-38 win over Tyler and the Turtles.
The game was hard-fought, frequently tied or within one score, and the two teams only separated from one another in the final two minutes of the 20-minute match when DIKSOK hit multiple close shots under the rim to build their lead.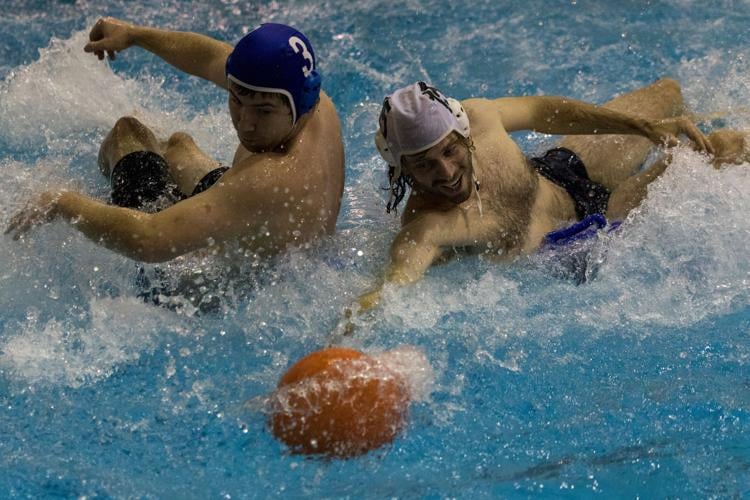 Coho Chanel advanced out of the other semifinal match, against More Concrete 6.0, winning 16-14 after a slower-paced game that was reduced to only one 10-minute half due to IMA time constraints.
In the finals, Coho Chanel managed to slow down the sharpshooting DIKSOK, keeping the game close through the first half, buoyed by multiple early steals. The tempo picked up in the second half and DIKSOK pulled ahead, ultimately winning 30-16.
Bellefeuille called the championship a "really feisty game," and tiring after playing two in one night. By all accounts, a game of innertube basketball is a legit workout, both for cardio and arms. Bellefeuille said he'd "equate it to a nice day in the gym."
Despite games being feisty and competitive, the league is overall friendly inside and outside of the pool, according to its players. Several of the players who are in their final year at the UW stressed they wished they had found innertube basketball and its "good vibes" sooner.
For Pascal Sturmfels — member of A Series of Tubes — and the innertube basketball athletes, Thursday nights meant being free, even if for just 20 minutes of gameplay, from the stresses of school.
"It takes you out of your day, in a good way," he said. 
Reach Development Editor Devon McBride at sports@dailyuw.com. Twitter: @DevonM98
Like what you're reading? Support high-quality student journalism by donating here.