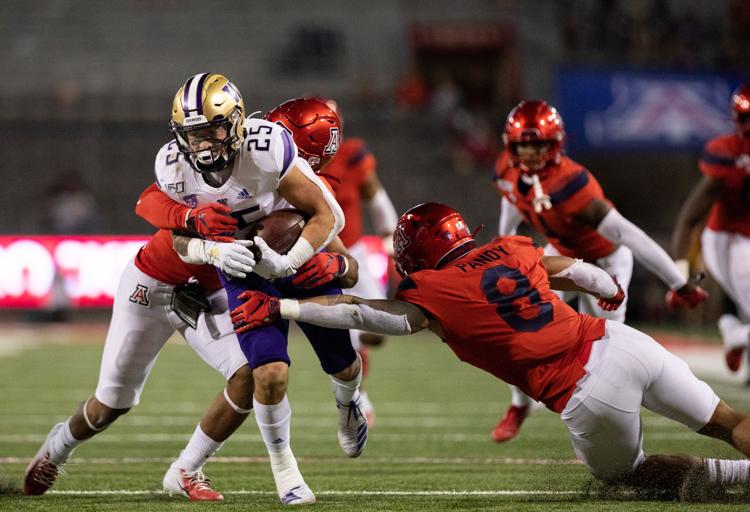 Alright, it's finally OK to start talking about Oregon. After telling reporters that he wasn't yet thinking about Oregon immediately after the No. 25 Washington football team's win over Arizona, head coach Chris Petersen says it's okay to do so now. 
"To me, it's like Arizona is the most important thing in our lives last week," Petersen said. "Now we're on to this and that's just how we operate. The rivalry thing is great for fans and all those types of things. I think rivalries get going when teams have good games against each other and it's back and forth and we've had some good games here the last few years."
For the first time in awhile, the Huskies (5-2, 2-2 Pac-12) and the No. 12 Ducks (5-1, 3-0 Pac-12) are coming off a back-and-forth affair in their series. 
After Oregon's decade of dominance and Washington's 70-21 and 38-3 response, the Ducks came out on top in a thrilling 30-27 overtime victory in Eugene last year. But the Huskies aren't necessarily thinking about revenge. 
"I know they're a good team, but at the end of the day this whole thing is about us and us getting better every day," tailback Sean McGrew said. "It doesn't matter who our opponent is, we're still going to work on how we can be the best team possible, and it's just a matter of who is lining up in front of us. We're going to show that we're getting better week after week and that's the goal."
In perhaps the best game this nameless rivalry has ever seen, Washington saw a last-second field goal that would have won the game go wide, and an Oregon touchdown in overtime sink the Huskies in 2018.
But where the Ducks were underdogs at home a year ago, they will enter Husky Stadium on Saturday as slim favorites over the hometown Huskies. Even without stars like tight end Jacob Breeland, who was ruled out for the season Monday, Oregon boasts a wealth of depth and experience that the UW hasn't seen so far this year. 
"You really see that on defense, that they'll play some different guys," Petersen said. "I think a lot of places there's a drop-off when a lot of guys are rotating in. You don't feel that. I think they've stayed relatively healthy, maybe until this last game."
It's the biggest game of the season for the UW so far, even if Petersen didn't want to admit it until this week. Already with two conference losses, if the Huskies have any hope of a Pac-12 title, they need this one. Senior defensive back Myles Bryant, who has seen the rivalry progress for four years now, is looking forward to the matchup. 
"[It's] fun and intense," Bryant said. "[Last year] was pretty sour for everybody. Both sides are going to bring their best and I'm excited to see how it goes."
Reach Sports Editor Alec Dietz at sports@dailyuw.com. Twitter: @AlecDietz
Like what you're reading? Support high-quality student journalism by donating here.