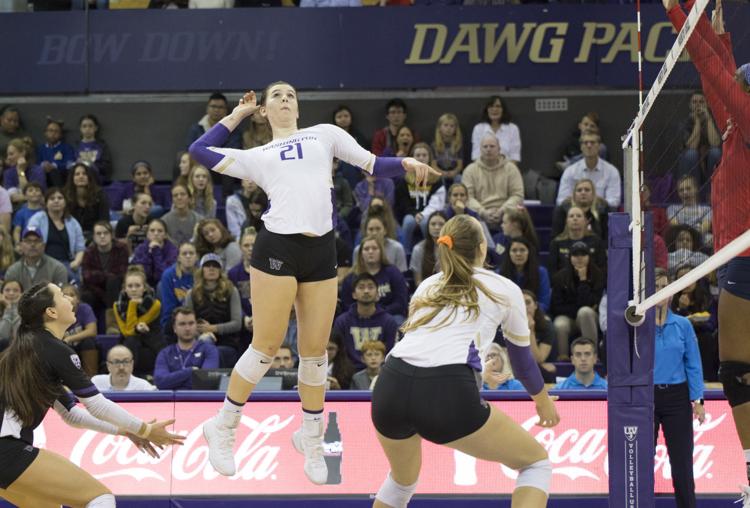 Freshman Claire Hoffman led the Washington volleyball team to a 3-1 win over No. 21 Arizona (22-25, 25-23, 25-18, 25-15) with a career-high 21 kills in just her fifth match with the Huskies (15-9, 7-7 Pac-12). With only 20 career kills before the weekend began, Hoffman had a breakout performance as she carried the Washington offense to victory against the Wildcats (18-8, 7-7 Pac-12).
"In her first three starts I didn't think she showed what she's known for, which is really good decision making as a hitter, and managing tough sets and hitting lots of good shots," head coach Keegan Cook said. "Tonight she looked more like herself, the player we thought she could be."
Hoffman made her first career NCAA start against UCLA, when the Huskies switched up their lineup in an effort to bolster offense. This weekend is the first time it's paid off.
"She came out and executed well, and came out with confidence," junior Kara Bajema said. "When she knows we all believe in her it goes pretty well."
In Hoffman's first three games, she consistently hit under .100, with her fourth match, against Arizona State on Friday, being her previous best offensive performance this season, hitting .152 for nine kills.
Against Arizona, she finally showed what the Huskies think she's capable of.
"Certainly can't count on her for 20 kills and hitting .450 every night, but just making the right choices," Cook said. "She's always done that."
In the past few weeks of unsuccessful offense, they Huskies have known what to do to fix it but haven't been able to translate that to the court. Tonight Hoffman was the best example of the team finally succeeding in doing so.
"[It's] definitely a step up from what I've been doing," Hoffman said. "I think I've just been practicing hitting smart shots so that's what I tried to do and tried to execute."
While the rest of the offense got off to a slow start, Hoffman didn't have a single error through 10 kills on 19 attacks in the first two sets. Washington's middles struggled to generate offense through the first two sets, and junior Kara Bajema and sophomore Samantha Drechsel, Washington's other pin attackers, didn't have their best games.
The Huskies let some big leads slide away in the first two sets, most notably allowing Arizona to fight off five set points before they managed to win the second.
"I thought we didn't show up with a lot of energy or effort, which has been a bit of a challenge for us on Sunday afternoons," Cook said. "I thought the turning point was in that second set. There was just some defensive grit and some great long rallies that we won."
Hoffman wasn't the only player getting career highs as libero Shayne McPherson had 28 digs to lead a Washington defense that looked the best it's been in weeks.
"I thought Shayne was as good as I can hope for," Cook said. "Just a lot of balls coming her way and she answered the challenge over and over again."
Reach Social Media Editor Hailey Robinson at sports@dailyuw.com. Twitter: @haileyarobin