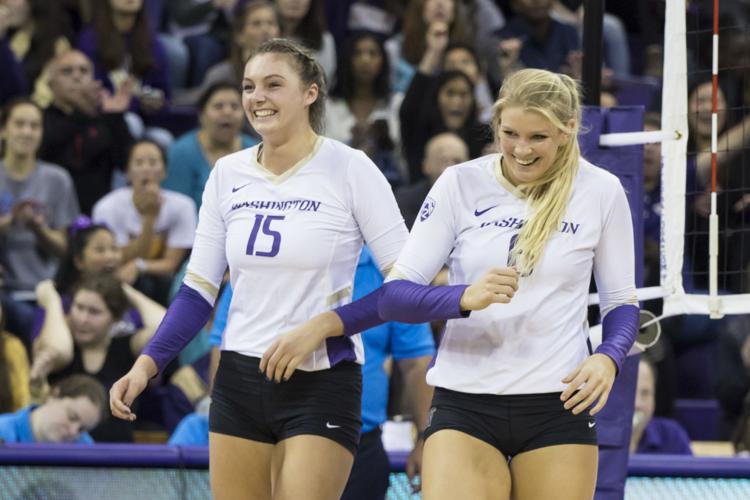 Every set stayed close as the No. 20 Washington volleyball team overtook Cal 3-1 (26-24, 25-17, 23-25, 25-21). It wasn't the Huskies' best match as they battled both Cal and their own offensive struggles for a hard-fought win. The win extended the Huskies current streak to five, balancing out the previous stretch of five losses.
The Huskies (18-9, 10-7 Pac-12) started off slow, although things picked up in the fourth set, where they hit .457. Before that, Washington's hitters weren't generating much offense, with junior Kara Bajema not hitting double-digit kills until late in the third set, an uncharacteristic performance from the UW's usual kill leader.
"We have to get Kara playing well at the beginning of matches," head coach Keegan Cook said. "She certainly came on late. When she does the game sure looks easy for us, but we have to put her in positions to really do what she can do."
It wasn't just Bajema who struggled to get going early on. The Dawgs looking a little sluggish offensively as the match went back and forth, with the first set especially close.
"It really did feel like the offense was stuck in the mud for a while there," Cook said. "Usually we're able to lean on Sam pretty heavily, and that wasn't going so well early on either."
Many of Washington's struggles stemmed from an excellent Cal defense that posted 76 digs. The Golden Bears also boasted a stellar outside hitter in sophomore Mira Mirkovic who scored 25 of their 75 points, but the UW's own errors in hitting and receiving were to blame as well. There wasn't one main problem for Dawgs, but a lot of little problems that added up throughout the match, especially in their third set loss.
"As a team we can correct the little things, get everything set in stone, more in place," junior Avie Niece said. "We're really preparing for December and the tournament. We're improving in a lot of little areas."
Defensively, however, it was another successful night on the block for the Huskies, with 12 total team blocks coming at key moments. The first two sets were both won at the net, with Niece and freshman Ella May Powell combining for two consecutive blocks for set point and the win in the first, and the second set ending on a block from Powell and sophomore Lauren Sanders.
Niece, as usual, led the Huskies with seven blocks, but five other Huskies contributed to more than one as well.
"For blocking, I think we've really been putting an emphasis on that in the last couple of weeks," Niece said.
Niece also added 10 kills for the Huskies, hitting .389.
"I told Avie yesterday, she's playing with a lot of confidence on both sides of the ball," Cook said. "Certainly, offensively she helped us through the entire match tonight. She might have been the one consistent person who was just chipping in a few kills every set. It's nice to see her go both ways."
Reach Social Media Editor Hailey Robinson at sports@dailyuw.com. Twitter: @haileyarobin
Like what you're reading? Support high-quality student journalism by donating here.