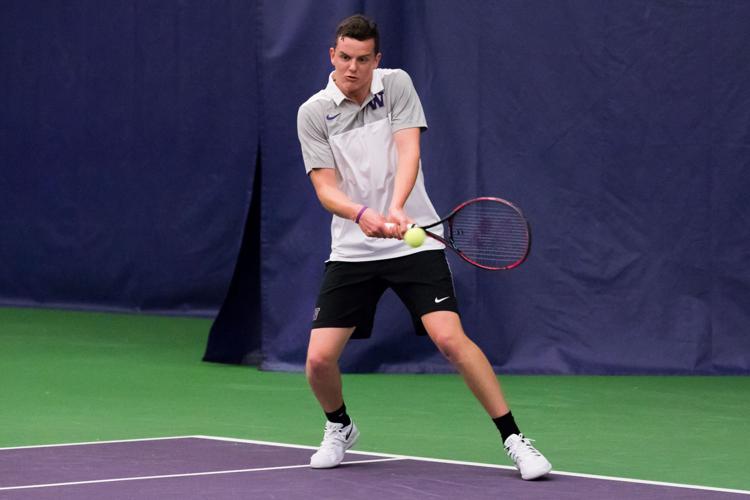 The Washington men's tennis team fell to Wisconsin 5-2 in a non-conference matchup on Sunday morning. 
The Huskies (2-5) struggled to put together an all-around performance Sunday, with their only two wins coming from senior Piers Foley and freshman Ernesto Turegano.
Foley has been consistent all year, following up his recent success at Michigan with another solid performance, beating Wisconsin's Chase Colton 6-3, 6-2. He is now 4-0 on the season when playing in the No. 3 singles slot.
The other Husky win was turned in by Turegano, who continues to shine and win matches in his freshman year. Turegano had to battle for three sets, eventually winning 4-6, 6-4, 6-3, and is now 3-0 on the year in three set matches. With today's win, Turegano improves his singles record to 4-1 on the season.  
The Huskies continued their recent struggles in doubles, as the duo of sophomore Jack Davis and Piers Foley fell to Wisconsin's Oscar O'Hoisin and Jared Pratt 4-6. The freshman tandem of Turegano and Ewen Lumsden also struggled, losing to Robert Krill and Chase Colton 2-6. The Huskies finish the weekend with a 1-4 record in doubles play.
Freshman Ewen Lumsden and senior Enzo Sommer both battled in their matches, eventually losing in three sets. Lumsden at the No. 4 singles spot fell 6-7, 6-2, 4-6. Sommer, playing in his usual No. 1 singles position, dropped his match 6-4, 3-6, 4-6.
The Huskies have been close to breaking into the win column all weekend, but the tough three-set losses have been a big obstacle.
The Huskies get a week and a half to prepare for their next matchup, when they face San Diego State on Feb. 22.
Reach Reporter Caden Conder at sportsdaily@uw.com Twitter: @cadenmconder
Like what you're reading? Support high-quality student journalism by donating here.