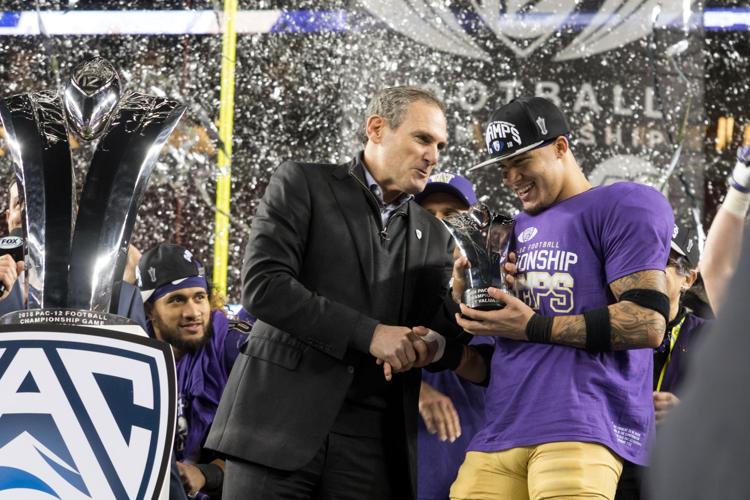 Wow, that's a pretty loaded question right now. But, as with most Pac-12 coaches at their bowl press conferences have found out, it is one that they should be expected at this point.
With news breaking of Pac-12 Commissioner Larry Scott and the conference looking to potentially seek private equity partners, it seems like the Pac-12 is in a rut that it is desperately trying to dig itself out of. Compound that with the Woodie Dixon targeting situation and the conference's abysmal 1-8 bowl record a season ago, and you'll start turning the country's heads. And not in the ways that you want to.
In fact, if you haven't already, go read the Oregonian's four-part series on how bad the conference is doing right now if you're a glutton for punishment. It's a fun ride.
Washington head coach Chris Petersen was asked this question during the Rose Bowl head coaches press conference this morning, and supplied this answer:
"I don't know. There's been a lot of talk about all those things, and everybody's just trying to do the best they can and win games. I think that's — the analyzing of where these conferences are, sometimes it's cyclical. And I don't think coaches think that much about it. They're just trying to do the best they can with the team that's put in front of you, and put your best foot forward."
Washington also happens to be the last Pac-12 school to make the College Football Playoff, in 2016. For the past two seasons, a Pac-12 school hasn't really come close to even being considered for a playoff position.
"To have the kids having their A game every Saturday is really hard to do in the competitive environment that we all play in," Petersen said. "And for those teams that can do it, then they need to go to that playoff, and then there's going to be some teams that are right there that are probably just as deserving and you have got to make subjective decisions on who goes. And that can be hard."
Sure, that might be the case with Ohio State, who was a one-loss Big Ten champion, but Washington this season, at three losses, and USC a season ago at two losses weren't even in the running for the subjective decision.
However, six games, the 2018 postseason is looking pretty good, at least compared to last 2017. After starting the bowl season 0-2, with Arizona State losing to Fresno State and then Cal losing the interception-fest that was the Cheez-It Bowl, the conference has rattled off their first three bowl wins of the season.
First, it was Washington State, while disappointed to be in the Alamo Bowl, defeating Big 12 representative Iowa State. Then, in the action today, Stanford had a come-from-behind victory against ACC Coastal Division champion Pittsburgh, Oregon scored a single touchdown and beat the Big Ten's Michigan State. While sometimes the games didn't look pretty, wins are wins.
Utah's loss to Northwestern wasn't a good one, especially given its lead and collapse in the third quarter, but the Utes were minus their starting quarterback and tailback, Pac-12 runner up is an impressive feat.
The best of the Pac-12 North was able to fair well against some of the best in other conferences, which bodes well for Washington tomorrow.
Unlike last season, Washington won't be carrying the Pac-12's hopes into its New Year's Six bowl game. With wins against two conference runners up and another ranked team in Iowa State, the Pac-12 has shown this season that a win against Stanford, Washington State and Oregon actually does mean something for other conference teams.
Sure, the Pac-12 South didn't have a great bowl season (only two eligible teams, and both ASU and Utah lost), but the North has won every game except one (Cal), and won the conference once again.  
And at this point, the Pac-12 will take anything it can get.  
Reach Assistant Sports Editor Alec Dietz at sports@dailyuw.com. Twitter: @AlecDietz