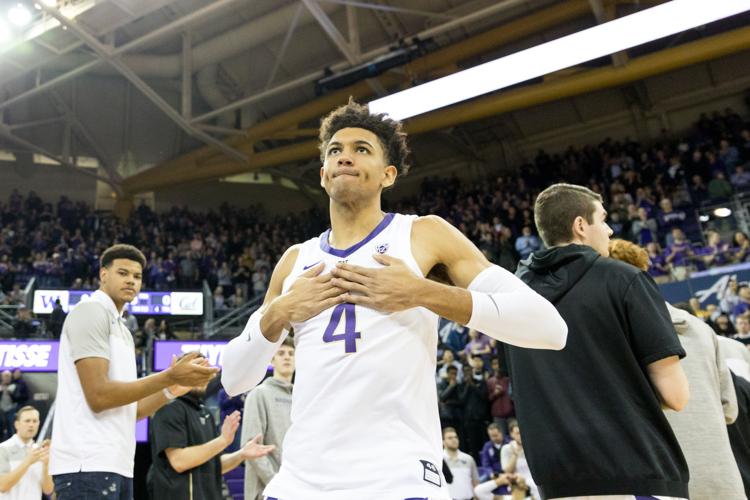 With the NBA draft in just a few days, most of the focus is on the presumed top-3 picks of the draft: freshman phenoms Zion Williamson and RJ Barrett of Duke and sophomore Ja Morant of Murray State. However, one senior is projected to go in the first round in some mock drafts — Washington guard Matisse Thybulle.
"You don't hear a lot of talk about older guys, but for me being in college for four years I was able to learn so much, on and off the court, that I feel like I have a huge advantage," Thybulle said. "I have learned so many lessons from my coaches, teammates, and teachers."
Under head coach Mike Hopkins and his 2-3 zone that he brought over from Syracuse, Thybulle blossomed into one of the best defenders in the country. He led the nation in steals the past two seasons and shattered various records, including the Pac-12 single-season and career steals record.
His numbers before Hopkins came to the West Coast were exemplary as well, albeit not quite to the same extent. Thybulle was third in the Pac-12 in total steals under head coach Lorenzo Romar his sophomore season. His 2.1 steals per game was one steal per game improvement from his freshman season.
His 3.5 steals per game and 6.7 steals percentage were both head and shoulders better than the competition this past season. Thybulle also came away with the Naismith College Defensive Player of the Year Award.  
His record-breaking numbers have caught the attention of other defensive stars. San Antonio Spurs guard Dejounte Murray has been impressed with his former teammate.
"If he can play defense at the next level like he is playing in college, he could be a great defender," Murray said. "It's good to have a strength of being a lockdown defender and being able to play in help defense and just be able to play defense all around."
As Thybulle puts it, the differences between the zone defense he played over the last two seasons and the defense he'll be asked to play in the NBA isn't as drastic of a transition as it's made out to be.
"We play a zone like an aggressive man," Thybulle said. "We force people into helps, into traps and we all rotate on passes. I wouldn't say it is the same because obviously, that is not possible, but it is not as different as people like to think."
Mike Hopkins knows firsthand what goes into the transition from that aggressive zone defense to the NBA. Hopkins coached many players with a similar profile as Thybulle during his time at Syracuse, but Thybulle stands out as a unique player.
Oklahoma City Thunder forward Jerami Grant is comparable to Thybulle at the next level. Hopkins coached the Syracuse alum as well. His offensive numbers in college are similar to Thybulle's, but the Washington star has far superior defensive numbers. This past season Grant was 15th in the NBA in defensive win shares.
Thybulle recognizes Grant's success, as well as guys like Andre Iguodala in Golden State and Danny Green in Toronto. To that end, he sees a clear role for himself at the next level.
"I think I bring what a lot of teams need right now in three-and-D guys," Thybulle said. "Guys who can guard multiple positions and then hit knockdown shots when they need to."
Murray, now with three years of NBA experience, has become known for his defense, making second team All-Defense in 2017. Murray envisions Thybulle carving out a similar role for himself in the NBA.
"He's going to have to play," Murray said. "You have to play defense to win championships, and that just means he's going to be on the floor late."
Outside of defense, Thybulle had to step up as a senior leader to help Washington reach the NCAA tournament for the first time in eight years.
"I take pride in being a good teammate," Thybulle said. "That goes for on and off the court. On the court, I love the success of my teammates, for me helping my teammates have success feels just as good, if not better, than my own personal success."
His time at Washington playing with three current NBA players taught him what it means to be a good teammate and prepared him for his next chapter.
"The UW just taught me how to handle success, how to handle failure, how to grow and persevere through tough times," Thybulle said. "I think that is invaluable and helped me to where I'm heading."
Although they played just one season together, Thybulle has Murray in his corner, with a whole city of pros likely rooting him on as well.
"I am just happy for him," Murray said. "He's just gotta keep working hard. He has been through a lot with losing his mother. I love him to death."
Most draft experts predict Thybulle to go late in the first round on June 20, with a reunion with Murray in San Antonio on the table. While going late in the first round would mean he would likely immediately join a contending team, Thybulle is not worried about his destination. He is just happy to finally be on the doorstep of his dreams.
"I'm just here to play a game I love playing," Thybulle said. "To be able to play at the highest level as your job to do something that you love is a good day. There's not a lot that can beat that."
Reach reporter Kyle Gehler at sports@dailyuw.com. Twitter: @KyleGehler
Like what you're reading? Support high-quality student journalism by donating here.