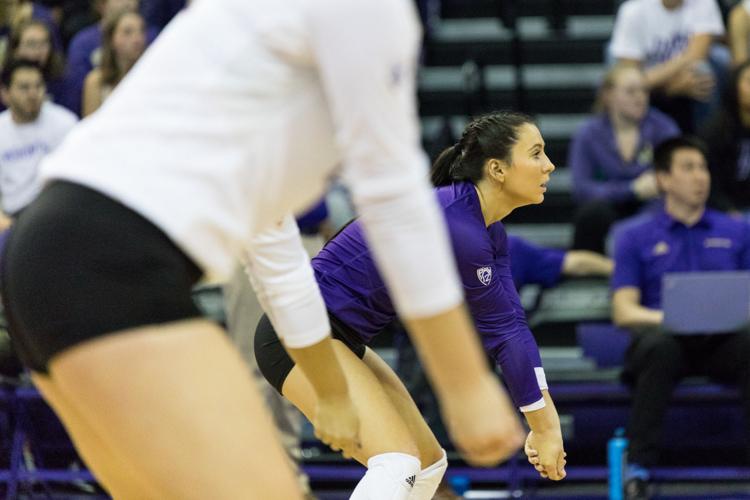 The No. 8 Washington volleyball team is only one week into the Pac-12 season but that one week has determined a major goal for the rest of the year: consistency. 
"You're always trying to be more consistent as opposed to having matches that are so high and so low," head coach Keegan Cook said. "We certainly have seen ourselves on the high end and seen ourselves on the low end."
Eight of the teams in the Pac-12 went 1-1 in the first weekend of conference play, and the Huskies (10-2, 1-1 Pac-12) were one of them. While Sunday's win over Stanford will probably be one of the biggest games of the season, splitting the weekend wasn't ideal. 
"You don't want to base your success off of wins and losses," Cook said. "It was more just the way we played that we take a lot of confidence from, executing a game plan at a high level for a long period of time on both sides of the ball."
There was visible improvement in Washington's game from Wednesday to Sunday of last week. The Huskies had 10 blocks against WSU; not bad, but nothing compared to 16 against Stanford. Their hitting percentage went from .154 to nearly double that, and errors dropped from 25 to 15. 
Washington's digs went down against Stanford, but that didn't mean their defensive was suffering. The offense was just able to finish kills and stay away from long rallies. Defensively, the Huskies played one of their best games of the season. 
Last weekend went beyond stats and numbers. It was all about how the Dawgs felt on the court. 
"The next couple days of practice after that we were like 'Let's do the best we can to never have to feel that way again,'" junior Samantha Drechsel said. "Going into Stanford we were like 'We're just going to attack this head on, no regrets.'"
The game against Stanford was far more successful than the one at WSU, and the Huskies played consistently at the same level throughout. The one thing that kept it from being a complete game, however, was serving. 
The Huskies were aced six times, and only served three aces at Stanford, a step off their season low. They had three times as many service errors as aces, something that may have cost them in a game where the defense didn't perform quite as well. 
"I think just focusing in on our serving and passing," senior libero Shayne McPherson said. "Obviously our defense helped us win the Stanford game, but just helping us win the serve and pass battle, because we definitely didn't win that game against WSU."
The Huskies rallied against Stanford, but now the focus is on putting together two conference wins in a row against the LA schools. UCLA is one of two teams in the Pac-12 without a conference loss, while USC is one spot out of the top-25. 
The Huskies visit USC first, on Friday at 8 p.m. They play UCLA on Sunday at 2 p.m. Both matches will be broadcast on Pac-12 Networks. 
Reach Engagement Editor Hailey Robinson at sports@dailyuw.com. Twitter: @haileyarobin
Like what you're reading? Support high-quality student journalism by donating here.