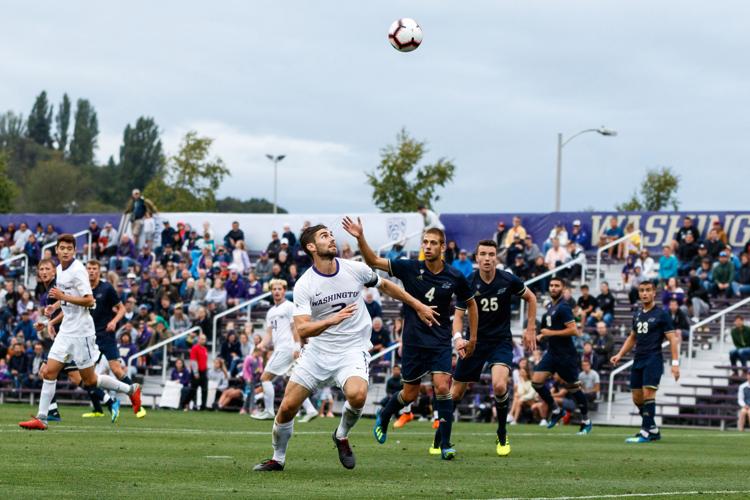 The Washington men's soccer team is in a rut. The Huskies have lost their past three games after starting the season 5-1, and it's not going to get any easier over the next few weeks. Now that they are in the heat of their conference schedule, they must find a way to score the goals they scored with ease the first month of the season.
The offense is still generating the large amount of chances it was in the beginning of the season, however nothing seems to be finding the back of the net. In fact, over the course of the current losing streak, the Huskies (5-4, 0-1 Pac-12) have outshot opponents 46-39, but have only the two goals against Oregon State last Saturday to show for it.
"It's the same old song, that we dominated another team for 25 minutes," Head Coach Jamie Clark said on the OSU loss. "We pressured well, created chances, didn't score, and then they came down and their goal was a crazy goal. So all of a sudden it's a gut punch."
Clark partially blames the losing streak on bad luck, but he also blames the schedule, and not in the way you might think. What he had previously looked at as "the best scheduling ever in terms of timing and rest" has left his team with too much time to think about losses, contrary to the beginning of the year when they were playing and winning games in quick succession.
"It's interesting," Clark said. "We haven't won a game in a month cause we've been playing so few games. Usually in the Pac-12 schedule, three games is 10 days, so recently we've stewed on losses and tried to fix mistakes."
"We've made some gains but it's just been long, and in turn, it's worn on guys cause it's just been a long time between wins. I think they're razor-sharp focused, but I wouldn't say they're happy, and neither is the coaching staff. No one's happy when you lose."
In response to the streak and the coming two-game weekends, he plans to make changes in the rotation to provide his starters more rest and increase output in certain areas of the field.
"We have to look at a few personnel issues," Clark said. "We haven't had a shutout in three games and we've given up seven goals the past three games, so that's a lot of goals for us, and that puts a lot of pressure on our attacking group. So I think we have to look at the back line a little bit."
Look for players like senior midfielder Corban Anderson and redshirt senior forward Scott Menzies to be spending more time on the bench in favor of redshirt freshman defender Noah Whitman and junior midfielder Daniel Ribas, who has been getting a lot of play in the second halves of games recently, and almost scored his first goal as a Husky against OSU.
UCLA will come into its contest against Washington with an identical 5-4 record, and an almost identical situation. The Bruins (5-4, 1-1 Pac-12) started out their season 4-1, but have since lost three out of their last four, including a 3-0 loss to No. 18 Stanford last Sunday.
Leading the offense is junior forward Mohammed Kamara. Kamara is in his first season with UCLA after winning back-to-back national championships in junior college, and currently leads the team in scoring with four goals. Following close behind is freshman midfielder Matt Hundley with three goals.
The odds may be stacked against Washington as it looks to break its longest losing streak in a decade Thursday night, but Clark and his team know they have to get any kind of momentum they can get.
"The hardest thing to do with a habit is to break it," Clark continued. "But it takes one win to get ourselves going again, and they know it too. Knowing UCLA's coaching staff and players, they know they're very good, and they know with one win can come four more. In order to get that belief back, you gotta get that first win, and all of a sudden it can roll."
The Huskies cap off the weekend with another conference road contest against San Diego State. The Aztecs are sitting on a 4-4-1 record and have not scored a goal in their first two Pac-12 games, losing to Cal and Stanford on the road. However, they have won four straight games at home after dropping their opener.
The game against UCLA will start Thursday at 8 p.m. on Pac-12 Networks, and the SDSU game will begin Sunday at 11:30 a.m.
Reach reporter Chris Angkico at sports@dailyuw.com. Twitter: @chrisangkico