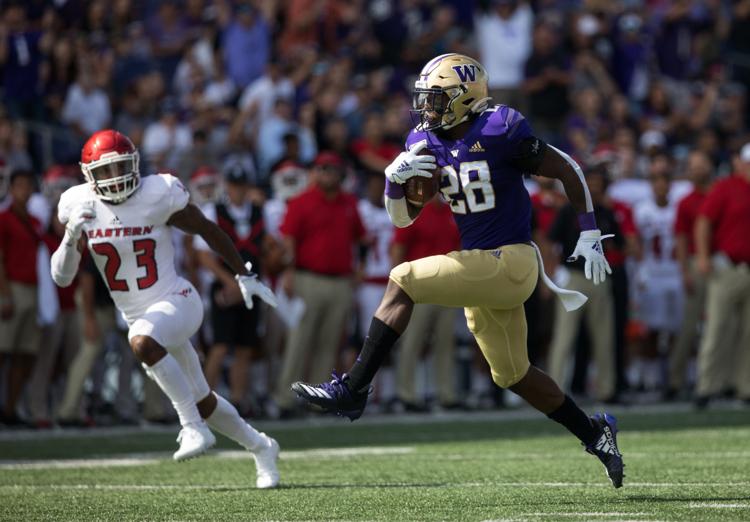 Let's start with the obvious caveat. The No. 13 Washington football team's 47-13 win to open the season came against Eastern Washington — one of the best FCS teams in the country, but an FCS team nonetheless. Come the end of the season, this game could become an aberration, with things changing in a negative way once the Huskies get into Pac-12 play.
But.
Regardless of opponent, that game was the best season-opening showing by a UW team — particularly on offense — since the Huskies demolished Rutgers in 2016. A whole lot went right, and that's not something that can be said about Washington in Week 1 matchups recently.
And it wasn't just one or two stars putting out great performances; Washington flexed its depth better than maybe any game the past few seasons.
Sure, Jacob Eason had a great first outing, going 27-for-36 with 349 yards and four touchdowns. But those 27 passes went to eight different receivers. 
"By the nature of what we're doing, certainly a lot of different guys are going to get opportunities, whether it's personnel groups or different formations," offensive coordinator Bush Hamdan said. "I thought Jacob did a really nice job of distributing the ball today."
Four — Hunter Bryant, Aaron Fuller, Andre Baccellia, and Chico McClatcher — had at least five catches. It's the first time that's happened for the Huskies since October 2013.
With Mike Vorel of The Seattle Times reporting before kickoff that Washington will be without Ty Jones for the foreseeable future, such a good start to the season was just what the Huskies needed. The Huskies racked up 370 passing yards without Quinten Pounds catching a ball, and got younger faces like Austin Osborne and Puka Nacua time on the field.
"The sky's the limit for the room," Fuller said.
Meanwhile, the UW running game entered the post-Myles Gaskin era with a strong game on the ground, going for 223 yards and a pair of touchdowns. Salvon Ahmed took the starring role in stride with 15 carries for the first time in his career.
Behind him, redshirt freshman Richard Newton may have been the most surprising star for the Huskies, leading the team with 91 yards on 12 carries. His first — and most impressive — came on a fourth-and-2 wildcat keeper for a 23-yard touchdown.
"We want to create as many different ways to get our guys doing what they're good at," Hamdan said.
And that's certainly what happened Saturday. Sure, when Cal comes to Husky Stadium next weekend, it'll bring a defense that is multiple levels above what Washington saw today. Just look at what happened last year when the Huskies played the Golden Bears. 
But if there was one takeaway from the game that transcended any one player's stats, it was how deep the Huskies were able to go and still get production. 
And that is exactly what the Huskies wanted to see against an FCS defense.
"I think it's big, it shows what we're capable of week-to-week and what we should expect out of ourselves," Ahmed said. "Coming out next week against Cal, that's what we should expect out of ourselves."
Reach Managing Editor Josh Kirshenbaum at sports@dailyuw.com. Twitter: @J_Kirshenbaum
Like what you're reading? Support high-quality student journalism by donating here.