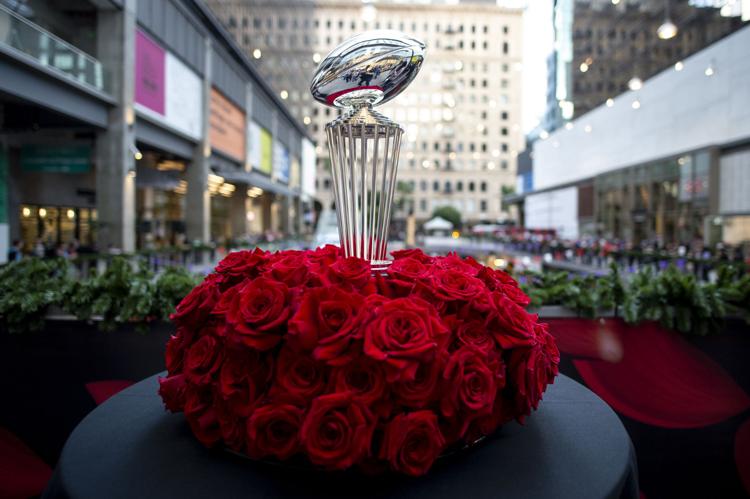 When the No. 9 Washington football team takes the field in Pasadena, Calif. for the 15th Rose Bowl in program history, the Huskies will go against the best team they've faced all season in No. 6 Ohio State. In the final piece of The Daily's preview series, we wrap things up with our predictions for the game. Check out the previous installments:
When Ohio State throws the football
When Washington throws the football
When Washington runs the football
When Ohio State runs the football
---
Rushing offense
Josh: This is a bit of a trick question, just because Washington and Ohio State have very different purposes to their run game. The UW offense relies heavily on Myles Gaskin and the rest of its tailbacks to shoulder the bulk of the load, while Ohio State's pass-first attack really only needs its runners to take a bit of the focus off of the passing game. Washington could gain more yards but still lose this battle, if the Buckeyes do enough on the ground to set up a few play-action deep shots. That being said, though, I think I have to give the edge to the Huskies.
Pick: Washington
Alec: They key here will be the explosive play, in which both teams excel in their running game. The Buckeyes do have an explosive passing game — the nation's second best — but they also have two guys in Mike Weber and J.K. Dobbins who are over, or close to 1,000 yards rushing. Both have the ability to create an explosive play, but Washington's defense has shown that, yet again, they can limit that big play in the running game. Given Ohio State's propensity to give up big plays on defense, I'll give the edge to the Huskies and Myles Gaskin here.
Pick: Washington
Passing offense
Josh: Little to say here. Dwayne Haskins is the most dynamic quarterback outside of the Playoff, and Ohio State's passing offense is better than anything the UW has seen yet this year.
Pick: Ohio State
Alec: This one's easy. Jake Browning and company have been efficient at times, but Ohio State has the second ranked passing attack in the country. Led by Heisman third-place finisher Dwayne Haskins, the Buckeyes have proven to be one of the top offenses in the land, and they are led by their star quarterback.
Washington's passing offense very well could be the key in this game, if they get it going with Browning, Ty Jones, and Aaron Fuller, it would go a long way. But count on Ohio State's passing offense to be more potent than Washington's.
Pick: Ohio State
Rushing defense
Josh: Washington will give up its share of decent, medium-sized gains to teams that will run the ball repeatedly. But that's not Ohio State's style this year. Meanwhile, OSU has been one of the worst defenses in the country in terms of allowing big plays. Myles Gaskin could get loose once or twice today in a big way.
Pick: Washington
Alec: Statistically, it's Washington, easily. The Huskies do have a bend but don't break style of defense in the passing game, but they rank near the top in run defense in the nation, giving up just 116.4 yards per game.
Ohio State, on the other hand, does not have that same luxury. They have quite a few players who can disrupt and cause problems, but they rank outside the top-50 in run defense near 160 yards per game. The edge goes to the Huskies here as well.
Pick: Washington
Passing defense
Josh: This is a bit of a mirror to the rushing offense question. Washington no doubt brings the better secondary to the contest, but Ohio State's has a much easier task ahead of it. The UW secondary has been up to the task against every passing attack its seen; Dwayne Haskins will be by far their toughest yet.
Pick: Toss-up
Alec:This one is a tough pick just because, yes, Washington has one of the best secondaries in the land, but they'll be going up against Haskins and the best passing offense they've seen this year (sorry WSU).
Ohio State's defensive backs haven't had a great year, but they'll be going up against a Washington passing offense that has struggled in recent weeks, and in big games this year. I'll give the edge to the Huskies just because their secondary is better, but that doesn't mean they'll have an easier time defending the opposing offense.
Pick: Toss-up
Special teams
Josh: In terms of punting, the edge goes to Joel Whitford and Washington. For everything else, it's Ohio State. The easy one to point to is the field goal unit, and after staying away Peyton Henry as much as possible in the Pac-12 championship game, Chris Petersen may have to go to his redshirt freshman kicker in a couple clutch situations today. But don't overlook kickoffs. Washington can't afford to give up any big OSU runs, and oftentimes it can be a big return that completely breaks the wheels off.
Pick: Ohio State
Alec: The Huskies' special teams struggles have been widely noted all season long, in all three phases of special teams. Joel Whitford's return has boosted the punting game, but the lack of a legitimate return threat and a struggling placekicker has hampered Washington all season long.
The Buckeyes' have a stud punter in Dru Chrisman and a solid placekicker in Blake Haubeil. I'll give the edge to Ohio State here.
Pick: Ohio State
X-factor
Josh: How does Washington start? In its past two big-time nonconference matchups (last season's Fiesta Bowl and the Week 1 loss to Auburn), Washington has lost the first quarter —  badly. Both games saw the Huskies recover and make games close, but if momentum swings to the Ohio State sideline right out of the gate, Washington will have a real tough time surviving to halftime.
Alec: The UW passing game — and that doesn't just mean Jake Browning. Despite Washington's touted secondary, Haskins and Ohio State will put up points. They average well over 40 points per game and have played against some good defenses in the Big Ten.
The Huskies will have to put up points, and that means they will have to be able to throw the ball. Washington will definitely use the running game more so than the passing game (57 percent run rate), but a strong air game would go a long way in deciding this football game if that passing attack starts looking like the 2016 version.
Prediction
Josh: This is the best secondary Washington has had in my lifetime. It'll be the last hurrah for one of the most decorated quarterbacks to play for the UW in Jake Browning, and for one of the most prolific tailbacks to come to Montlake in Myles Gaskin. But the Huskies still need to take that next step, to winning a game against a big-time opponent in which nobody gives them a chance. Until I see it happen, it's hard to predict. I could see this game going a lot like the Fiesta Bowl, with Washington digging itself just too big a hole early. If the Huskies go down big early, I'm not sure they can come back. First to 30 wins.
Final score: Ohio State wins 38-24
Alec: It's hard to see the Huskies winning this one against a team like Ohio State. The Washington defense is built to defend an offense that the Buckeyes possess, but the Huskies' offense just hasn't been dynamic enough to keep up with a team like this. No doubt Jake Browning and Myles Gaskin have had a decorated and strong career, and I think they'll put up a fight, but Ohio State will pull away from this one late in the third.
Final score: Ohio State wins 31-17
Reach Sports Editor Josh Kirshenbaum and Assistant Sports Editor Alec Dietz at sports@dailyuw.com. Twitters: @J_Kirshenbaum, @AlecDietz