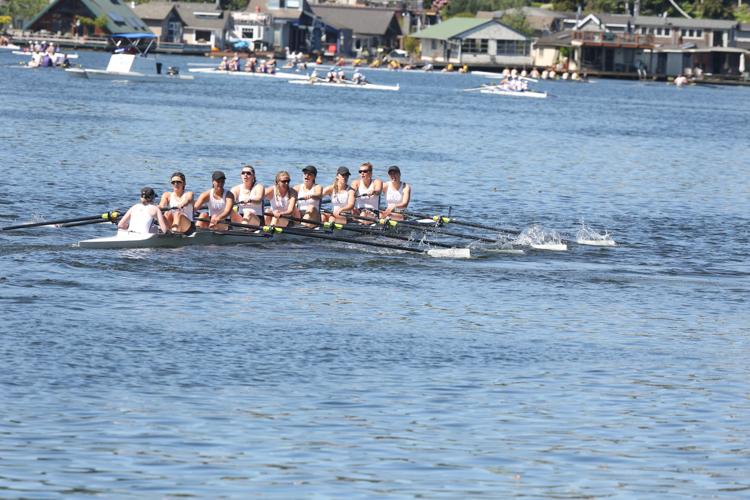 On another cold, windy day with sparse sunlight scattered throughout the four races, the Washington rowing crews kicked off their home spring season with the 117th annual Class Day on the Montlake Cut.
After their last two official regattas, the Head of the Lake in the fall, and their races at Lake Las Vegas earlier this season ended prematurely due to windy conditions, the Huskies were glad they could finally finish all their races without calling the day off early.
In the prime events of the day, with all the athletes divided by class into their best boats, the upperclassmen on both the men's and women's sides stole the show.
For the men in the George M. Varnell class race, the juniors took the storied trophy, with a time of 5:56.546, with the sophomores finishing second (6:01.330), the seniors third (6:05.080), and the freshmen well behind the top boat in fourth (6:08.593).
Dealing with fairly windy conditions for most of the race, junior Tennyson Federspiel from nearby Bellevue said that all their prep in the rain and snow earlier helps prep them for days like this.
"We row in it everyday," Federspiel said. "Rough water, kind of windy, cold. The weather changes here changes day-to-day, so it's easy to think of it as just another row."
As the team prepares to improve upon its second place finish at the IRA Championships last spring in their top boat, men's head coach Michael Callahan says that despite only losing by less than seven hundredths of a second in that race, there's still a lot of improvement to be done to catch last year's champs, the Yale Bulldogs.
"The real focus this year is making the next step," Callahan said. "It's just as big as us last year going from fourth place to second place, we have to make just as big of an adjustment going from second to first."
On the women's side, the seniors took the Seattle Times trophy with a stellar time of 6:40.641. The rest of the classes went exactly in order, with the juniors sneaking into second place (6:47.605), the sophomores grabbing third place (6:49.221), and the freshmen coming in last (7:03.451).
Newly-elected senior captain, Karle Pittsinger, who appeared on the national champion second varsity eight boat a year ago, repeated Federspiel's remarks on the weather, and said that winter is one of the toughest times to row all year.
"I think it makes us stronger," Pittsinger said. "Coming out here at 6 a.m. most mornings in the pouring down rain, and we're doing high-20s, we're just excited to be out here pulling hard pushing each other. Those moments prepare us for any racing situation."
Tasked with replacing last season's captain and current assistant coach Maggie Phillips, Pittsinger is hoping that the Huskies can develop their own separate culture after last season's national championship.
"I think we're going to have our own year," Pittsinger said. "I don't want to look back, because last year was something so special that will never be done again. I want to look forward, and leave a legacy of our own."
Coming into the Washington athletic program originally as a thrower on the track and field team, Pittsinger has the full support of her team, and from women's head coach Yasmin Farooq.
"She's an outstanding athlete, a great human being," Farooq said. "Part of her being elected is that she is compassionate, she is empathetic, she can talk to any kid at anytime, and can provide really good perspective and guidance. I think she'll be the perfect leader going into the spring season."
And while this Washington crew was the first team to sweep the NCAAs a season ago, and win a national championship in Farooq's first year as head coach, the team still finds its culture changing in year two under Farooq.
"Culture is a big word, it's something that evolves," Pittsinger said. "Something to always think about here is leaving your legacy. It means something different to everyone, we all go through different struggles and successes along the way, but it's really how you react and how you overcome."
The women's team lost no seniors from the first varsity eight a year ago, and lost only a few in their first varsity four and second varsity eight for what could shape up to be another national championship contending year for Farooq and the Huskies.
"What got us there last year was really just focusing on how to get better with each practice, each day, and each week," Farooq said. "All of these same women who have come back, the improvements they've made last year, they've all stepped it up again."
The Huskies will look to continue their strong start to the season at home next week at the Husky Open, which will include a women's bout with Washington State next Saturday.
Reach reporter Alec Dietz at sports@dailyuw.com. Twitter: @AlecCDietz