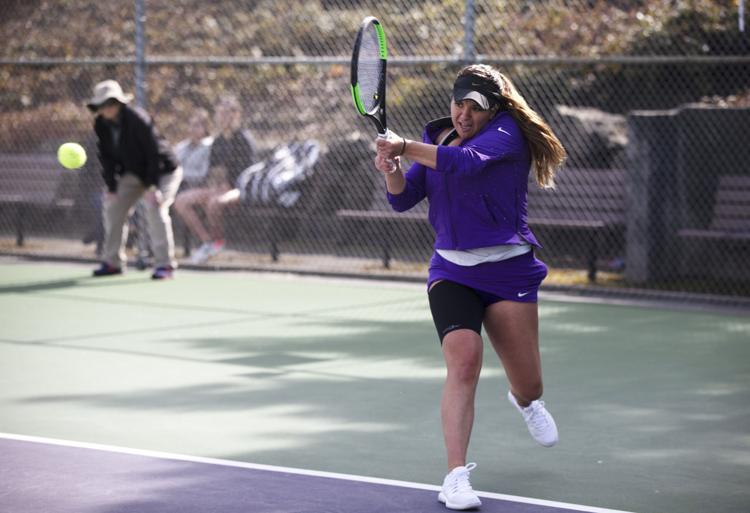 The Washington women's tennis team defeated Oregon 7-0 in its Pac-12 home opener.
The No. 9 Huskies (13-1) have now won eight straight matches, starting with the victory over No. 14 NC State on Feb. 10. The Huskies are now alone atop the Pac-12 with a 3-0 conference record.
"We're in a really good place right now," senior Stacey Fung said. "Everybody is working hard and having fun, and its showing on the court."
The singles performances have been impressive this season, and the Dawgs continued to produce wins throughout the lineup against a pesky Oregon squad.
Junior Kat Kopcalic lost her first set to Oregon's Rifanty Kahfiani at No. 3 singles, but fought back to win the second set 7-6. Kopcalic battled through a back and forth third set that needed another tiebreaker to decide. In the third set breaker, Kopcalic came out victorious with a 12-10 win for a 3-6, 7-6, 7-6 final.
Freshman Nika Zupancic also came back to win her match, as she defeated Julia Eshet 4-6, 6-3, 6-2. Another freshman, Sedona Gallagher improved her singles record to 9-2 with a 6-0, 6-3 win. The freshman for the Huskies have continuously improved, and stepped in to make important contributions at the back end of the lineup.
Stacey Fung and Vanessa Wong continued their success at the No. 1 and No. 2 singles spots, respectively, as they both secured wins in straight sets. Fung, currently ranked No. 69 in America, had to work for a 6-4, 6-3 victory against No. 87 rated Shweta Sangwan. Vanessa Wong grabbed her team-leading 13th win in a 6-3, 6-1 victory to give the Huskies a sweep over rival Oregon.
The Huskies will look to remain perfect in Pac-12 play when they host Arizona on March 29. 
Reach Reporter Caden Conder at sports@dailyuw.com Twitter: @cadenmconder
Like what you're reading? Support high-quality student journalism by donating here.