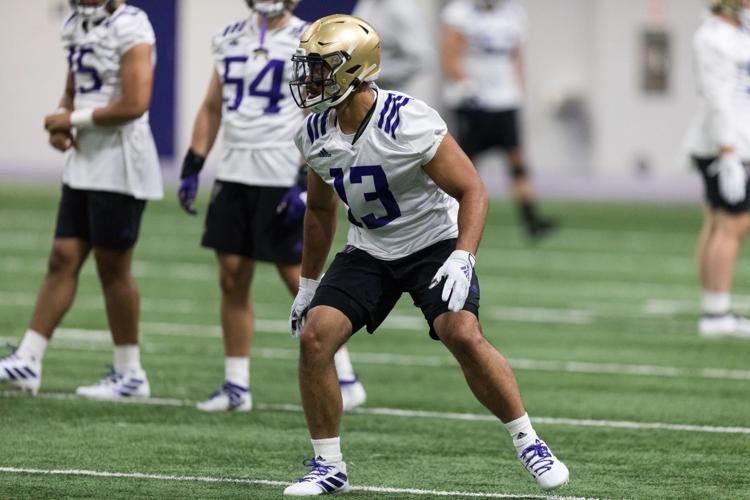 Going into last Saturday, the No. 14 Washington football team had just one man with starting experience in its middle linebacker corps. The Huskies graduated 85% of their tackles in 2018, most notably having to move on from Ben Burr-Kirven's FBS-leading 176 and Tevis Bartlett's 72 — second-best for the UW.
But senior Brandon Wellington — the lone Husky with a start going into 2019 — isn't expecting any drop-off.
"I feel like the standard is still the same," Wellington said. "If not, we raised it. Just competing to that level that Ben and Tevis left it. Husky Nation is all like, 'How are we going to come back and replace all that?' But I feel like we're starting a good roll. I feel like we're in a good spot."
Washington's 47-14 win over Eastern Washington was the third start of Wellington's career; he started the Pac-12 championship and the Rose Bowl after the coaches moved Bartlett back to the outside. 
Now one of the only two upperclassmen in the room, Wellington has taken on more of a leadership role. But he's also getting used to getting starter's minutes.
Wellington didn't light up the stats sheet against the Eagles, finishing with two tackles, but on the whole, he was happy with the game, both for himself and his group.
"It feels good to finally show what we've been working on all year in the summer and the winter and the spring, and going out there and playing," Wellington said.
Back in 2016, Wellington was one of just four true freshmen to start in the UW's season opener against Rutgers. He played in every game that year, and all but one game in 2017, but a torn ACL in the Apple Cup kept him sidelined for the bowl game, the entire offseason, and the first four games of 2018.
Now he's leading the group next to senior Kyler Manu, another experienced face getting the first real shot at extended playing time in his career. Manu finished with seven solo tackles this past Saturday, tied for the team lead in his first college start.
"Everybody had first-game jitters, had a couple mistakes here and there," defensive coordinator Jimmy Lake said. "But I thought Kyler Manu played one of his best games since he's been there, and [Wellington] played strong."
The senior middle linebackers led a defensive effort that held Eastern Washington to just 63 yards on the ground and Eagles' starting tailback Antoine Custer Jr. to 1.7 yards per rush.
"I felt a sense of chemistry, a sense of urgency between us," Wellington said. "We're playing at a high level. I feel like if we can continue that, and string that along all season long, we're in a good spot."
Reach Managing Editor Josh Kirshenbaum at sports@dailyuw.com. Twitter: @J_Kirshenbaum
Like what you're reading? Support high-quality student journalism by donating here.