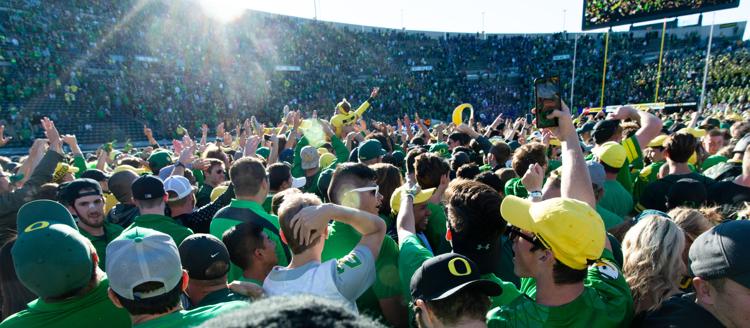 No. 15 Washington (-8)
Last weekend's loss to No. 12 Oregon hurt more than just the Husky faithful; it essentially eliminates the Dawgs from the College Football Playoff. No two-loss team has ever made it, and there's almost no chance it will happen this year either. Washington is still in play for the Pac-12 title this year, but it's most likely going to have to win out to have a chance to play in Santa Clara come the end of the season.
Winners
No. 12 Oregon (+5)
Alright, let's just get this one out of the way first. Oregon's win over Washington was very helpful for its own campaign. The Ducks are 5-1 and could easily be undefeated if a few plays went differently in their overtime loss to Stanford. They are now in the driver's seat for the Pac-12 North, more or less. They need to win out the rest of their relatively manageable schedule and need Stanford to lose one game.
No. 6 Michigan (+6)
The Wolverines really poured it onto No. 15 Wisconsin for their first ranked win of the season. Michigan has only lost one game, and it was only by a touchdown and on the road to Notre Dame, which now ranks in the top four. UM has outscored opponents by an average of nearly 28 points in its six wins this season. Michigan will really be tested with three ranked matchups to come, including a showdown with No. 2 Ohio State in the Horseshoe to close out the season.
No. 5 LSU (+8)
After getting taken down in close game by Florida, LSU responded in a big way. The Tigers showed up Saturday and put 36 points on a Georgia team that had only allowed more than 20 points once this season. Mark your calendar for Nov. 3 when Alabama comes to Death Valley, which will likely be a game for the SEC West title.
Losers
No. 13 West Virginia (-7)
West Virginia's stay in the top-10 came to a quick end last weekend, dropping a game at Iowa State, which has built a reputation as a dangerous place for ranked teams to play. Heisman hopeful Will Grier threw for 100 yards and had an interception, and the 14 points scored by the Mountaineers was their lowest mark of the season by far. We'll find out soon if it was just one game or if their offense is beginning to stall.
No. 18 Penn State (-10)
Last season, Penn State lost consecutive games to Ohio State and Michigan State. This year? Yeah, it happened again. The back-to-back losses have been by a combined five points, but last year's were by a combined six points, so I guess that's progress. Penn State will now have a couple weeks to regroup before it takes on No. 6 Michigan in the Big House.
Miami (Dropped out)
It's been a rollercoaster year for Miami. After getting embarrassed by LSU in the season opener, Miami strung together five wins that led up to a loss at Virginia. This was the first time the Hurricanes lost to the Cavaliers in four years, and senior Malik Rosier's meager 170 yards and interception were large contributing factors in their loss.
Reach reporter Josh Eddy at sports@dailyuw.com. Twitter: @JoshTreEddy