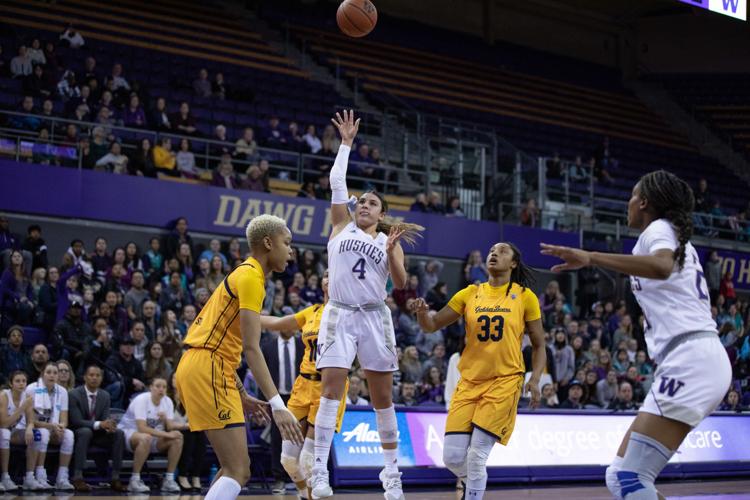 At halftime, the Washington women's basketball team was down by 17 points to Cal. At the end of four quarters, the game was tied, the deficit closed with 17 points from senior Amber Melgoza.
"The effort was valiant in the second half and it stemmed with Amber Melgoza," head coach Jody Wynn said.
The Huskies lost in overtime, 81-74, their eighth straight loss in Pac-12 play. It was the fourth time they went to overtime this season, a new record for the program, and the fourth loss after making it past four quarters. 
"It's frustrating," Melgoza said. "I want to win. We came in here wanting to win and start something."
On Friday night at Hec Ed, Melgoza was held to no points for the first time since her freshman year in the 58-41 loss to Stanford. On Sunday afternoon, she moved up to No. 13 on the Washington women's basketball team's all-time scoring list, passing the 1500 mark with 35 points. It was the second-highest scoring game of her career and her highest scoring game this season. 
"One thing I will celebrate is the comeback that Amber had from one game to the next, 48 hours later," Wynn said. "That's a kid that was really taken out by the other team, just a couple nights later. I was really proud of her maturity and her growth and her mental toughness more than anything." 
Melgoza was the only Husky in double digits at halftime. She was also the only Washington player who made a field goal in both the first and second quarters. 
She finished the game shooting 58%, while the team as a whole shot 36% from the field. Without Melgoza's contributions, they shot only 26%. 
This was all less than 48 hours after a game where she didn't make a single basket.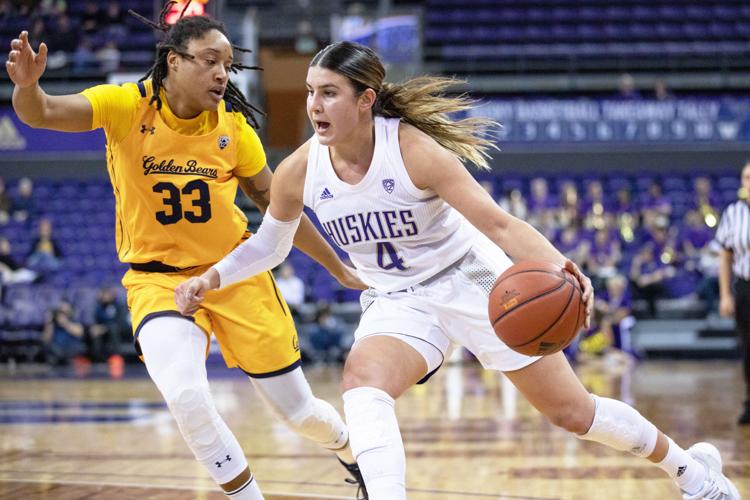 "I was very frustrated with what happened on Friday so I took that frustration out today," Melgoza said.
With a little under five minutes left to play in the fourth quarter, the Huskies were down by 14 points. Then Melgoza drew a foul on a jumper and made the and-1. That was the beginning of a 13 point stretch for the senior and part of an 18-5 run for the UW that tied up the game at the end of four quarters. 
"Amber was all over the floor," Wynn said. "She scored it, rebounded it, assisted it, got steals."
In addition to her 35 points, Melgoza had five rebounds, six assists, and three steals. She also drew 10 fouls and added six free throws to her point total. She led the charge on defense for the Huskies as well. 
It's not an unfamiliar role. Melgoza has been a leader for the Huskies since her sophomore year, and is now Washington's top scorer for the third straight year. When things go wrong, she's been the go-to option. 
Melgoza has almost a quarter of Washington's points this season, and 27% of Washington's points in the past three years. She's taken one-third of Washington's free throws in that time too, but none of those points were home against Stanford this weekend. 
Playing one of the best games of her career against Cal though, Melgoza looked like a completely different player than the one who started on Friday night. 
"She was so resilient and a true competitor in every sense of the word," Wynn said. "She was a warrior. She stepped up today from opening possession."
Reach Engagement Editor Hailey Robinson at sports@dailyuw.com. Twitter: @haileyarobin
Like what you're reading? Support high-quality student journalism by donating here.