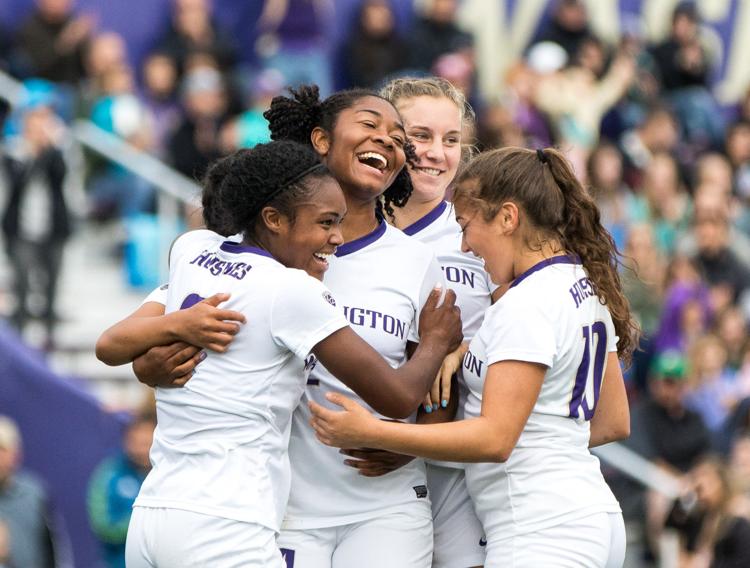 Mierya Grey's first career goal helped the Washington women's soccer team to a 1-0 victory over Oregon to improve to 2-1 in Pac-12 play.
The Huskies (7-3-1, 2-1 Pac-12) scored just one goal for their second time this weekend, but yet again it was enough. In the closing minutes of the first half, freshman Makena Carr broke out down the right side, and pushed the ball out in front of the net. Grey got on the receiving end and was able to drill the point-blank shot past the Oregon defense to break the deadlock.
"I've been really thinking about getting a goal," Grey said. "And I'm super happy that it was right when it was needed, so I could not see anything better."
Carr's assist was also her first point of the season.
Coming into today's game, Oregon had only allowed 9.4 shots per game, but Washington spent little time weaving through the defense to put up 10 shots in just the first half of play.
Part of the reason why the UW was able to create more scoring opportunities was its pressure on the ball, especially in the attacking half.
The Dawgs fell back into a more defensive rhythm in the second half to keep their lead intact. Oregon tried to take advantage when it applied pressure and put up four shots in the second frame.
"They were down a goal, so we knew they were gonna press us and get after us, and we had to absorb their pressure," head coach Lesle Gallimore said.
The Washington defense stayed strong, forcing its second straight shutout. Keeper Siena Ruelas contributed three saves in the effort.
The Sunday afternoon crowd totaled 1,299 and was by far the biggest home crowd to view the Dawgs this season.
"It was an amazing atmosphere to get a win in this, and then to seeing the crowds increase, it was a good motivation for us," Grey said.
The crowd watched a chippy, wire-to-wire, competitive game, with 27 total fouls. Both home games this weekend had over 20 fouls, and Grey feels like the Huskies want to send a message that they can't be pushed around on their home field.
"We have a lot of people that are fiesty and don't come off the ball easily," Grey said.
Up Next:
Washington heads to the Rockies for matchups against Utah Oct. 4, and Colorado Oct. 7.
Reach contributing writer Josh Eddy at sports@dailyuw.com Twitter: @JoshTreEddy