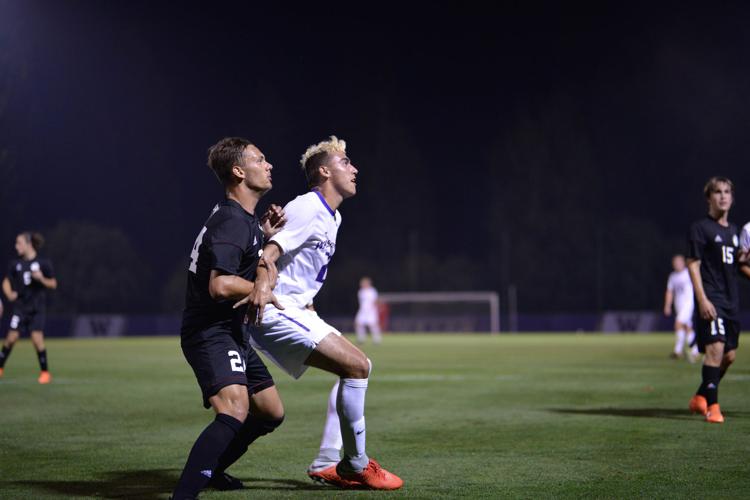 Senior day came early for the Washington men's soccer team last year, as it finished the regular season with three road contests before its home first-round NCAA Tournament game. This year, that script has been flipped and the Huskies will play its last four games in the friendly confines of Husky Soccer Stadium, much to the delight of head coach Jamie Clark and the rest of the players.
"We're so happy to be home for four," Clark said. "We want to be in a better situation than we are, but at the same time, if we can protect our home field for a few games, then we'll be in a great spot."
Washington returns home with a few injury issues in tow. Freshman defender Ethan Bartlow has missed the last two games with a concussion he picked up in the team's first game against Stanford. His back line mate, senior defender Quentin Pearson, also did not play against Cal last Thursday with a concussion of his own, but returned in the Stanford rematch. Redshirt junior midfielder Joey Parish who played right back earlier in the season when redshirt sophomore Kasey French missed time, has been nursing a hamstring injury that held him out of both games last weekend.
And redshirt junior goalkeeper Saif Kerawala continues to be sidelined with the leg injury he sustained two weeks ago against the Bears. Clark is being cautious about his return, and is comfortable continuing to start sophomore Bryce Logan in the meantime.
"I'm thinking [we'll start] Bryce Thursday, and maybe Saif on Sunday," Clark said. "Saif only started jogging yesterday, so I imagine it's a little bit much to ask. If he's not at 100 percent, then we won't play him, because I think Bryce at 100 percent is our No. 1 if Saif's still struggling."
With the injury bug hitting the Huskies once again, a few new faces have had the chance to step up in recent games. Redshirt freshman defender Freddy Kleeman and redshirt junior defender Ryan Degroot got their first starts of the season against Cal, and Degroot also got a starting nod this past Sunday.
Maybe the most interesting new player to come on the scene for Washington has been freshman midfielder Gio Miglietti, who got his first career start (and his first career minutes) against Stanford, and wasted no time in showing the opposition his uber-aggressive nature on the pitch.
"He was brilliant against Stanford, and he brings an edge that we haven't had all year up there," Clark said. "We didn't need to play Gio, but Gio's different than anything we have. [Scott] Menzies is a target forward also but he's more of a playmaking target forward, whereas Gio gets in the box and scores goals and makes it really hard for other defenders."
Miglietti will likely start again this Thursday against UCLA, according to Clark.
"When you have a guy who's going to challenge for every ball and make you really earn every second of the game, it opens up spaces," Clark said. "And then when a Menzies or a Dylan [Teves] or a [Kyle] Coffee comes in, there will hopefully be a little bit more space and time for those guys to do their thing."
Washington is currently three points behind UCLA in the Pac-12 standings and is ranked No. 40 in RPI. With a win Thursday, the Huskies would be tied for third in the conference with the Bruins at 12 points each, and one behind Oregon State sitting at 13. The team's only shutout in conference play came at the hands of UCLA on October 4.  
"I think UCLA played us the best of any team in the conference so far," Clark said. "They limited our chances, and somewhat stifled our attack. Bottom line, we just didn't create as many opportunities.
"UCLA stifled us, so it's going to be a fun riddle to try to figure out how to create chances against them because they defend very well."     
Reach reporter Chris Angkico at sports@dailyuw.com. Twitter: @chrisangkico