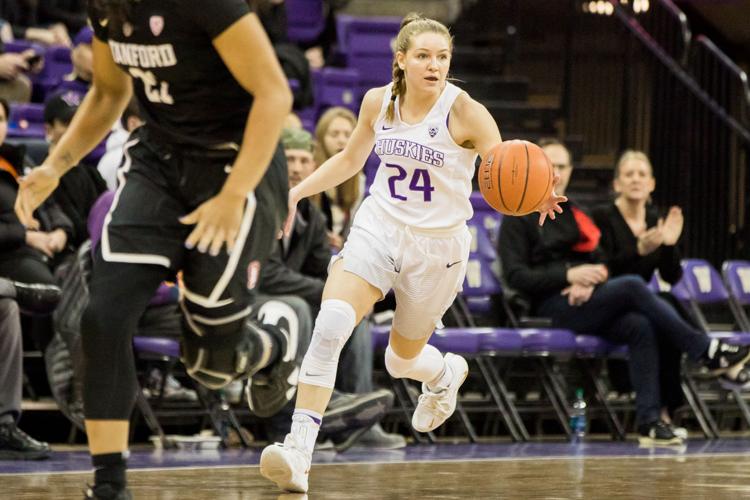 While it started on a good note for the Washington women's basketball team, ultimately, they couldn't keep up with Stanford in a 72-53 loss.
The Huskies (9-20, 2-15 Pac-12) honored their seniors — Hannah Johnson, Jenna Moser, and Deja Strother — in their last regular season game wearing the purple and gold. On the first possession of the game, Johnson, who was wearing Strother's No. 34 to honor the medically retired teammate, scored on a nice layup to start the game for the Huskies.
Unfortunately, most of the highlights ended there for the Washington offense. UW only made three more shots all quarter and Stanford jumped out to a 22-10 lead.  
Washington's struggles on offense were exemplified by a five minute stretch in the opening frame where they didn't score a point. That drought was broken up by a Mai-Loni Henson layup late in the quarter, but the damage had already been done.
The Huskies were able to claw back into the game a bit in the second quarter, after Johnson hit a three pointer to narrow the deficit to just seven, but a 12-1 run by Stanford to end the half extinguished any thought of an upset.
"Proud of our effort and I'm proud of our heart," head coach Jody Wynn said. "We could have laid down and quit after the first half and I don't think we did that at all. We made the extra pass, but the ball wasn't going in for us tonight."
The Cardinal (25-4, 15-3 Pac-12) rained shots — and particularly threes — against the Huskies defense, knocking down 11 of their 30 three point attempts and shooting 45 percent from the field. Potential all-conference forward Alanna Smith and guard DiJonai Carrington led the Stanford attack on offense scoring 12 and 19 points, respectively. Smith also added two blocks and a steal on the defensive end.
The Huskies, meanwhile, just couldn't get scoring from their usual suspects. Coming off of a career game against Cal, Missy Peterson shot just 2-for-6 from the field for five points, and leading scorer Amber Melgoza added just six points on 3-of-15 shooting.
"They were giving her that mid-range jump shot and it just wasn't going in," Wynn said. "She's such a great competitor that the ball not going in today doesn't mean it won't go in the future. Stanford is long, they aren't small. One thing Amber did tonight — and that's a sign of maturity — is she didn't give up on herself, she fought the whole time and I'm really proud of that."
Freshman Haley Van Dyke and Johnson led the Huskies in scoring with 10 points a piece. Johnson also contributed seven rebounds in her last game at Alaska Airlines Arena.
The regular conference season is over, and now, having firmly locked up the No. 11 spot in the conference, the Dawgs are set to take on sixth-seeded Utah in the first round of the Pac-12 tournament in Las Vegas on Thursday.  
Reach Assistant Sports Editor Alec Dietz at sports@dailyuw.com. Twitter: @AlecDietz
Like what you're reading? Support high-quality student journalism by donating here.