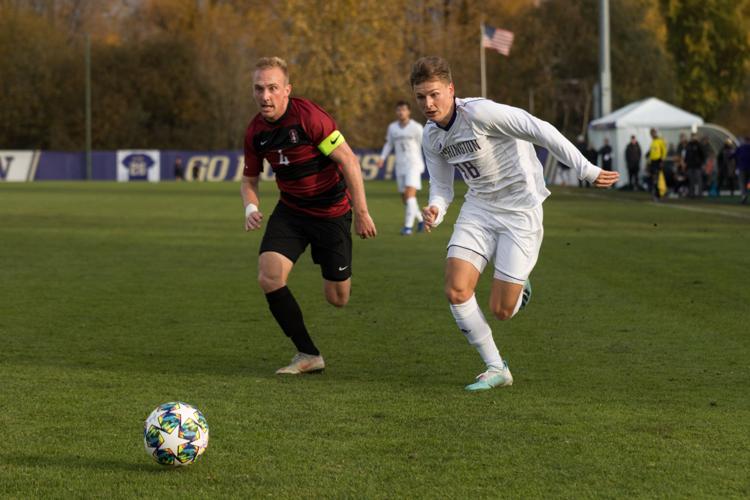 Despite suffering back-to-back losses at home to Cal and Stanford, the No. 6 Washington men's soccer team is still in control of its own destiny heading into the final regular-season game as it looks to win its first Pac-12 title since 2013 in Corvallis, Oregon.
"We're still in high spirits because the championship is still in our hands," midfielder Blake Bodily said. "If we do the right things on Friday, we'll come out with a win and the Pac-12 title."
The Huskies (14-3, 7-2 Pac-12) had only surrendered six goals in their first 15 games. They have now surrendered four in the past two, a statistic that head coach Jamie Clark is not too concerned about going into Oregon State.
"The way I see it, we gave up one on against Stanford and had one anomaly game where we gave up three to Cal," Clark said. "Giving up three in one was more than we'd like and we know we can't give up goals if we want to win important games like the one on Friday."
Clark reiterated that the most important thing for his team is to keep doing what it has been doing all season and the result will take care of itself.
Bodily stated he is confident the defense will rebound in a big way and record another clean sheet against Oregon State.
Bodily, who has nine goals and five assists, is one score away from reaching the 10-goal mark that Clark set for him at the beginning of the season and certainly has that in the back of his mind as he prepares to face the Beavers (8-5-2, 5-2-2 Pac-12).
"It would definitely be fun to get goal number 10 but in the end, it's all about winning," Bodily said. "If I was able to score and we win the Pac-12 championship in the process, it would be something very special for sure."
Clark confirmed that midfielder Dylan Teves will be available for Friday's game but is still unsure in what capacity he will be used. Before his knee injury, Teves had one goal and lead the team in assists with six. 
"He's been an extremely important player for our team and our program," star midfielder Lucas Meek said. "I've seen how hard he has worked to get back on the field and I know he's going to have a big impact in the Oregon State game." 
Washington can clinch the Pac-12 championship with a win or a Stanford loss to Cal. Stanford can clinch the Pac-12 title with a win and a Washington loss or tie. There is a possibility of both teams becoming co-champions with a Stanford tie and a Washington loss.
Reach reporter Le Bui at sports@dailyuw.com. Twitter: @LeBui18