When senior middle blocker Avie Niece showed up at Washington for her freshman season, she was quiet.
"She used to be blessed with the gift of silence," head coach Keegan Cook said. "You knew she wanted to say something, but she didn't know how to say it."
In her senior season, however, Niece is emerging as a vocal leader for the Huskies. Instead of just focusing on herself and growing as a player –– something she says is a necessary part of making the transition to college volleyball –– she's confident enough in her game that she's able to help out the people around her. 
"I think that's the biggest change that I've made as a player," Niece said. "Getting outside yourself really helps your own game because you're not just focused on yourself, you're focused on the team." 
To see just how much Niece has grown as a player, though, you have to go back to the beginning. 
In middle school, Niece was looking to switch sports due to a recurring injury that was aggravated by playing soccer. Her middle school PE teacher Steve Trachy was also the volleyball coach at Newport High School and encouraged her to try out the sport.
"I used to bug her constantly, 'Would you just give volleyball a try?'" he said.
Eventually he got his way. Niece played JV her freshman year at Newport and varsity her next three years. She also played four years of club volleyball with Sudden Impact, spending one year on the same team as senior libero Shayne McPherson. 
There was a big learning curve for Niece when she first started playing volleyball. Trachy said she had the athletic ability from the beginning, but learning the sport itself was a challenge.
Then, there was a new learning curve when Niece got to the UW. There are tiny technicalities and specifics that don't affect the game at the high school level, but make a big difference in college. 
"When I first, first started playing volleyball I hated it," Niece said. "Coming to college, I felt like I was new to the game again. I had to relearn everything. It was just really frustrating."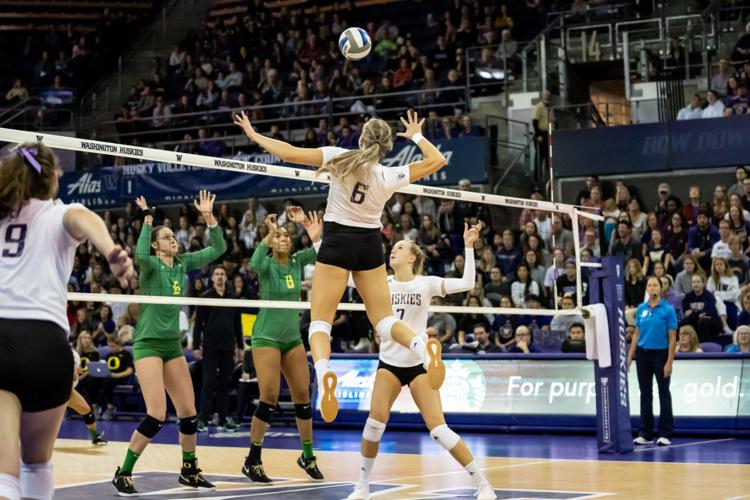 That's just a "freshman thing," Niece said. Last year's five-person freshman class went through the same struggles, and, while it isn't quite as visible because they aren't playing as much, this year's freshman class is going through the same. 
That freshman adjustment period was tough, but not quite as tough as the transition from soccer to volleyball as a high school freshman. 
"I didn't hate the sport again, I just had to relearn a lot of things and get worse before I got better," Niece said. "That's always hard to do."
Niece found mentors in Washington's upperclassmen at the time to help her then, and now she's taking on the same role for the UW underclassmen. As a middle blocker, she's especially a leader for her teammates in the front row.
"She's one of the hardest working people I've ever met," McPherson said. "She holds so many people accountable in the positive way. She just wants the best for all of us and that pushes us a ton in practice and in games."
Niece says all four seniors have different leadership styles and roles. McPherson and defensive specialist Cailin Onosko work with the back row, while outside hitter Kara Bajema leads by example, almost always leading the Washington offense. 
But for Niece, leadership looks a little different from the other seniors. 
"Supporting the girls around me and trying to encourage the girls around me when they do well, and making sure that's noticed," she said. 
Niece is definitely doing a little bit of leading by example as well. According to Cook, she came back from the offseason a lot stronger, and it's made her even more of a force to be reckoned with at the net. She's currently second  in the Pac-12 in blocks per set, with 1.51, and leads the team by far with 80 blocks. 
It's been over three years since she had to relearn volleyball, and now she can just spend her time getting better. 
"As much as I am trying to help people around me, in practice I'm honing in on one or two things instead of 100 like I used to be," Niece said. 
In the first half of Washington's home-and-home with Wisconsin she had 10 blocks, one solo and nine assists, to add to Washington's total of 14. She was named Pac-12 defensive player of the week for the second time in her career. 
"She's always been a pretty explosive player," Cook said. "But in the past year I've just seen her get really committed to doing all the things you need to do to be good day after day."
Most important, though, is how the once-quiet middle blocker has become more vocal, showing leadership by communicating with her teammates and her coaches. 
"Every facet of her game has changed but mostly her changes as a person are what impressed me most," Cook said. "Her ability to communicate what she sees and share information in practice and in matches, she's put in a lot of work."
Reach Engagement Editor Hailey Robinson at sports@dailyuw.com. Twitter: @haileyarobin