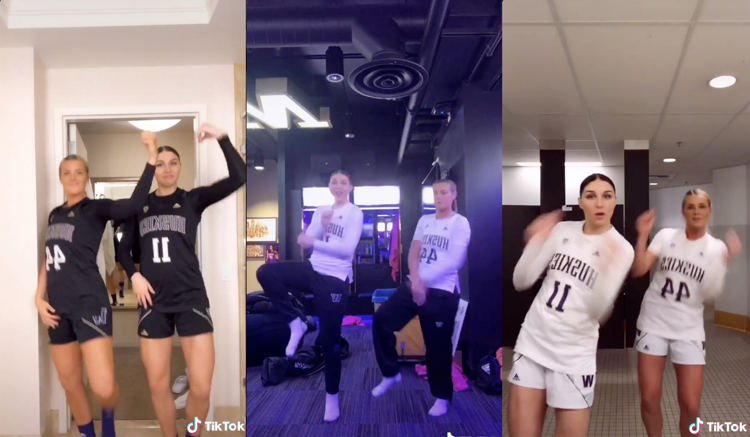 Missy Peterson and Haley Van Dyke are Division I athletes playing basketball in one of the best conferences in the country. But when they got stopped at the airport in Los Angeles on the way back from playing UCLA and USC the last week of January, it wasn't because of that. 
It was because they were recognized from TikTok. 
"We actually get stopped a lot," Peterson said. "I get people that I haven't talked to in forever like 'oh, hey, I saw you on Tiktok.' We never would've thought."
Before every Washington women's basketball game, Peterson and Van Dyke post a short video of them dancing from the locker room in Hec Ed, a visitor locker room in an opposing arena, or a hotel room in a city they're visiting. 
"We find certain songs and dances that we like, then we make them our own," Van Dyke said. 
Peterson posted her first TikTok on Nov. 8, just before the Huskies (11-12, 3-9 Pac-12) opened their season with a win against Cal State Bakersfield. She was alone in a bathroom in Hec Ed at first, but pretty soon, her teammates started joining her for videos.
"Me and Haley and a few other girls on the team always liked to dance and have fun, just listen to music and goof around," Peterson said. "I started seeing the choreographed dances on Tiktok so me and Haley tried to learn them and see if we could do them. One thing led to another and it became like a tradition, like, let's try to learn one for each game."
While it helps Peterson loosen up before she plays, Van Dyke is a little more superstitious about it. She became a permanent fixture in Peterson's videos in December, appearing in every one since Washington's Dec. 15 win at San Diego, where the two of them danced to "WEST COAST CURE" by 10k.Caash.  
"After that, it became more of a superstition. We have to do one before every game," Van Dyke said.
It's become an integral part of Peterson and Van Dyke's pre-game routine. Soon after Van Dyke started joining Peterson, one of their dances, before a 65-56 win over WSU, got over 150,000 views. 
"We come up with a dance before the game, usually two to three hours before the game," Peterson said. "We'll do it when we're getting ready."
Peterson isn't the only NCAA basketball player with a popular TikTok account. Shaylee Gonzales, who plays basketball at BYU, has 93.3 thousand followers on TikTok. DiDi Richards, a junior on the No. 2 Baylor women's basketball team, went viral a few days ago. The No. 19 Northwestern women's basketball team got over a million views on a video recreating Potter Puppet Pals while on a road trip to Indiana.
"I've seen a lot of other basketball teams and players do it," Peterson said. "It's cool to see."
With just under a month left in the season, it's not something Peterson and Van Dyke are planning on stopping anytime soon. 
"It helps us get loose and get ready and have a little fun before we get out and ready for the game," Peterson said. 
Reach Engagement Editor Hailey Robinson at sports@dailyuw.com. Twitter: @haileyarobin
Like what you're reading? Support high-quality student journalism by donating here.