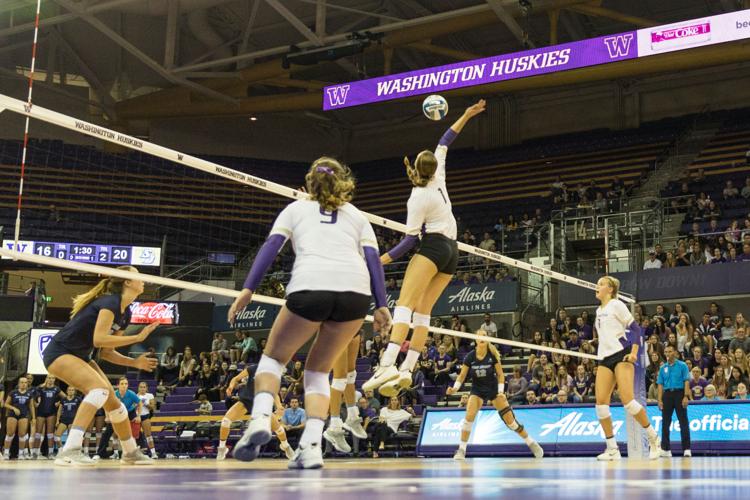 After shaking off the start of season rust midway through the first set, the No. 13 Washington volleyball team cruised to a three-set (25-22, 25-14, 25-17) victory over St. John's at the Rainbow Wahine tournament in Honolulu.
The Huskies (1-0) had 11 blocks and hit just under .300 against the Red Storm (0-1), holding them to only .039. Senior middle blocker Avie Niece was the most dominant piece of the Washington block, with seven total blocks (2BS, 5BA). She teamed up most often with sophomore hitter Samantha Drechsel, who had four total blocks. 
Junior Lauren Sanders' hitting was the strongest part of the Washington offense by far. She hit .727 through three sets, with nine kills and only one error on 11 total attacks. While no one came close to touching Sanders' incredible hitting percentage, senior Kara Bajema led the team with 11 kills, hitting .269, and sophomore Shannon Crenshaw had eight kills, hitting .273. 
Crenshaw also contributed on defense, where she matched senior libero Shayne McPherson with eight digs each. 
Four service errors led to a slightly shaky first set, but the Huskies got it under control with four straight after St. John's hit 20 points to take the lead and win the set, 25-22. Washington had five service errors together in the next two sets combined, which far outweighed its two aces, but it was pretty much obscured by successful offense. 
The Huskies got off to a quick start in the second set and maintained a solid lead that continued to grow as the set went on. Five of the UW's 11 blocks came in the second set, and the Dawgs held St. John's to only 14 points. 
The Red Storm jumped out with four straight points in the third set. The Huskies tied it up at 11-11, and held St. John's to only six more points to complete the sweep. 
None of Washington's three freshman saw any playing time, and neither did sophomore Claire Hoffman, who was a key part of the UW offense on the left side late last year. 
Washington will play Saturday at 7:45, facing No. 21 San Diego. 
Reach Engagement Editor Hailey Robinson at sports@dailyuw.com. Twitter: @haileyarobin
Like what you're reading? Support high-quality student journalism bydonating here.