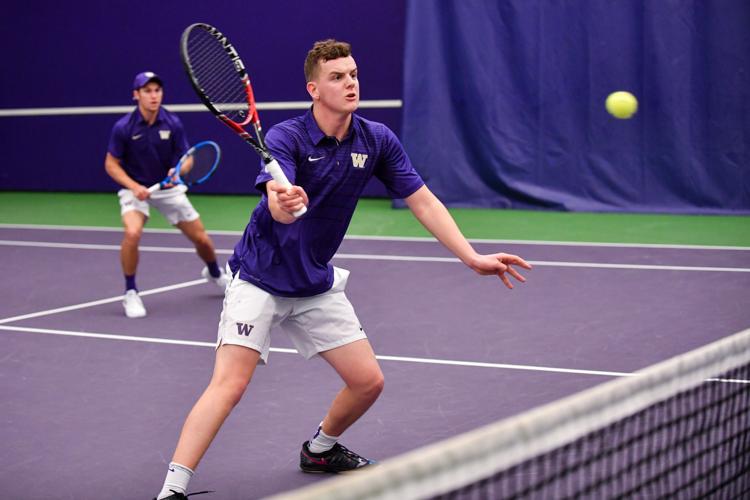 The Washington men's tennis team is traveling to California, where it will compete as the No. 7 seed in the Pac-12 tournament later this week.
The Huskies (7-16, 2-6) have lost five of their past six matches, but picked up a big conference win over No. 35 California last week. The Huskies will look to recreate the success they had against Cal, and will need to be at the top of their game to defeat their first-round opponent, No. 10 USC.
The doubles point will be a key for the Huskies, who will need to find success in doubles play if they hope to take down one of the top teams in the conference at USC. Sophomore Jack Davis and senior Piers Foley are currently ranked No. 72 in doubles, and will most likely face USC's top duo of Brandon Holt and Laurens Verboven. Last time these teams played, the set was tied at 4-4 when the doubles point was decided.
The senior pairing of Kawika Lam and Enzo Sommer will also need to perform well in doubles, as they step onto the court for one of the last times in their UW careers this week. A key for Lam and Sommer will be for them to serve well, which could allow them to take control of the net and win easy points off volley winners.
The Huskies have relied on youth all season, and freshman Ewen Lumsden has been a pleasant surprise at No. 4 singles. Lumsden has been rounding into form as of late, and seems to have figured out how to use his aggressive backhand as one of his best shots.
Another freshman, Ernesto Turegano will also be counted on to perform at the back end of the Husky lineup. Turegano delivered a clutch match-clinching performance in a 4-3 win over Liberty this season, and will be asked to play with the same fire when the Dawgs face USC. 
Reach reporter Caden Conder at sports@dailyuw.com. Twitter: @cadenmconder
Like what you're reading? Support high-quality student journalism by donating here.