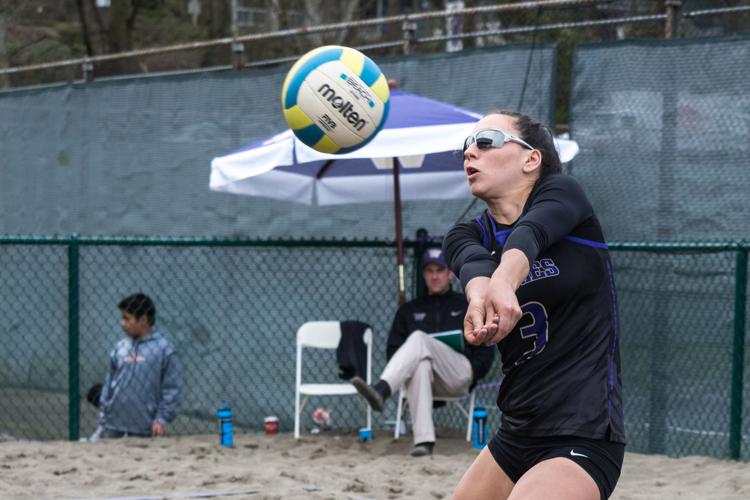 The Washington beach volleyball team picked up a win over Utah, but ended up losing three others on the weekend in its first conference games of the season at the Pac-12 South Invitational.
The Huskies (3-4, 0-2 Pac-12) began their weekend in Southern California with a match against No. 11 Cal and then moved on to No. 19 Stanford, finishing Saturday with two losses, both 4-1 decisions.  The team was led by Sophomore Callie Weber at No. 5, who finished 2-0 on the day. The sophomore picked up her first win with Freshman Scarlett Dahl against Cal, and then won against Stanford with Senior Avie Niece.
But in both cases, Weber's wins were the only ones Washington managed. Sophomores Natalie Robinson and Chloe Loreen were the only other Huskies to win a set, ultimately losing in three to Cal's No. 2 pair in the first match of the day. 
The Dawgs came out of their third match on Sunday with a 4-1 win over the Utes, its first win over a Pac-12 opponent, with seniors Kara Bajema and Shayne McPhereson taking the reins at the No. 1 pairing, keeping their opponents under 10 points both sets. Robinson and Loreen also won in straight sets and Weber picked up her third win of the weekend, once again paired with Dahl, at No. 4.
However, the team did not fare quite as well against No. 2 UCLA, as they were swept by the Bruins 5-0.  The Huskies were kept under 20 points in every set, and were swept 2-0 every match.
The Huskies will try to rebound when they travel to Honolulu in two weeks to take on No. 4 Hawaii, No. 7 GCU, and Nebraska.   
Reach reporter Evie Mason at sports@dailyuw.com. Twitter: @eviesmason
Like what you're reading? Support high-quality student journalism by donating here.