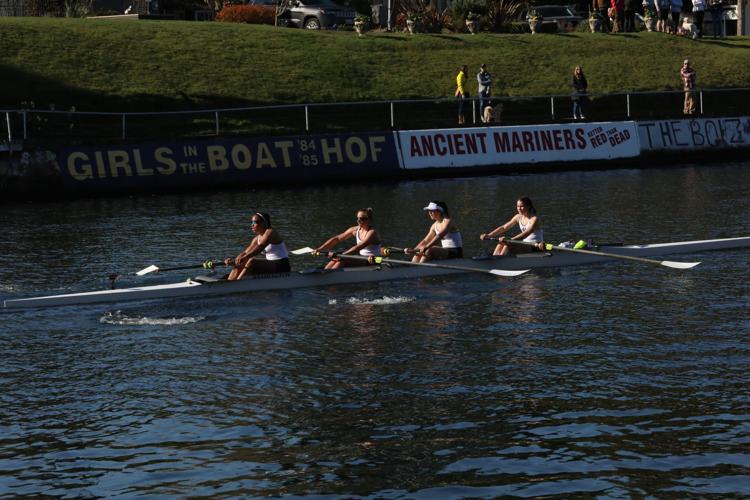 Washington women's rowing won the Karen Plumleigh Cortney Cup in varsity four, the third varsity took home the Carley Copley Cup, as well as earning a silver medal in three other events on the final day of the San Diego Crew Classic.
The top four-ranked women's programs in the country dominated the five featured collegiate races. No.1 Washington won two races, while No. 2 California, No. 3 Stanford, and No. 4 Texas won one each.
The women's varsity eight started off extremely close as the top four boats (UW, Cal, Stanford, and Texas) were neck-and-neck at 500 meters. Cal moved into the lead in the second 500 meters ahead of Cal, the UW and Stanford. That order stayed the same at 1500 meters with the Bears several seats in front of the Longhorns. Washington made a late push at the finish but Cal (6:33.434) edged out Washington (6:35.132) to capture first.
It was clear from the start of the women's second varsity eight that the three Pac-12 entries (Cal, UW, and Stanford) would vie for first place. Stanford led at 500 meters, with Cal a close second and Washington two seats further back. The Cardinal continued to hold its lead and finished in first with a winning time of 6:39.198, whereas Washington posted a 6:41.980.
Stanford moved to the front of the field in the women's varsity four out of the starting line. Washington's four moved into the lead by the 250-meter mark. The Huskies were still in front at 1,000 meters and they had increased their lead by the 1,500 meter mark. The UW crossed the finish line in 7:14.751 with Stanford finishing with a time of 7:19.127.
For the women's novice eight, the Longhorns jumped out to a full-length advantage over the rest of the field in the first 500 meters. The Huskies closed the gap in the second 500, but the Texas crew held its lead through the midway point. Texas maintained its advantage and won the race with a time of 6:59.358, with Washington finishing in 7:05.076 for second.
The final race of the day involved the women's third varsity eight as the Huskies got off the line starting jumped in front quickly. The Huskies had a half-length of open water over the rest of the field at the halfway point. The Huskies rowed to a comfortable win with a time of 7:08.392, nearly six seconds ahead of second-place Stanford.
The Huskies have a weekend off from competition and will face Ohio State and Michigan on April 20 in Henderson, Nevada.
Reach contributing writer Evan Wong at sports@dailyuw.com Twitter: @evan_wong29
Like what you're reading? Support high-quality student journalism by donating here.