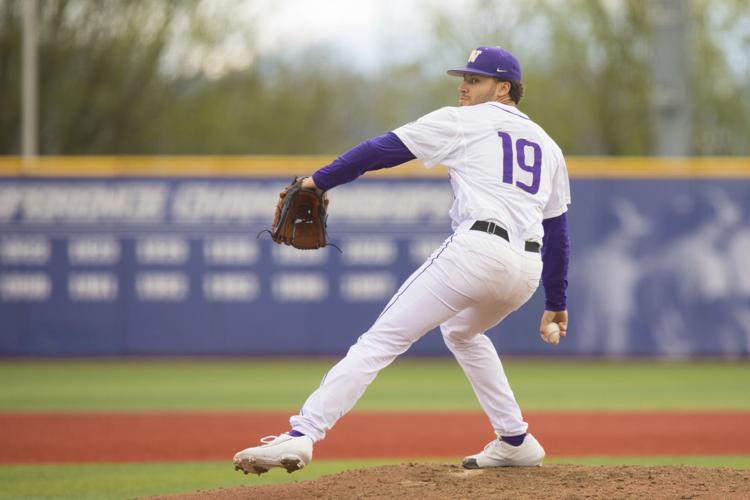 Despite an impressive performance on the mound from junior Jordan Jones, the Washington baseball team lost its second straight game to No. 1 UCLA, 4-0, which threw a combined one-hitter. The defeat gives the Bruins their first series win over the Huskies since 2015, and leaves the Dawgs with just one more chance to significantly up their RPI.
The game was a pitchers' duel from the start. Jones and UCLA starter Jack Ralston shut down both offensives, with the latter allowing just one hit and three walks in six innings. The Bruin righty also struck out nine on the day without surrendering a run.
But Jones lasted even longer. The junior hurled a season-high eight frames against a team that entered the series hitting .294. He gave up just six hits and struck out 10 Bruins, passing former teammate Joe DeMers for seventh all-time in the Washington record books with 201.
However, the four runs UCLA picked up off of him turned out to be enough. The Bruins strung together hits in the second to make it 1-0 early. Then in the fifth, a one-out double by freshman Matt McClain was quickly followed by a triple from sophomore Garrett Mitchell, the Huskies' chief tormentor on Friday. He scored on a sacrifice fly to extend UCLA's lead to 3-0.
An inning later, Gig Harbor native Michael Toglia — the only player on either team with a multi-hit game — hit his 11th home run of the season to make it 4-0.
Things didn't get better for the Huskies after Ralston left. A perfect inning each from redshirt sophomore Nathan Hadley, junior Kyle Mora, and sophomore Holden Powell locked up the game.  
Once again, the Huskies bats couldn't get anything off of the No. 1 pitching staff in the Pac-12. Junior Nick Kahle picked up the team's only hit of the game, with the other baserunners coming via walks and hit batsmen. The Washington lineup combined for 14 strikeouts, with every starter except junior Ben Baird being punched out at least once.  
The Huskies will get their final chance to knock off the No. 1 team in the nation on Sunday at 12 p.m.
Other notes
- Baird left the game in the seventh after being hit in the head by Ralston in the sixth. The junior was on the ground for a decent amount of time before jogging down to first. He was removed an inning later. Sophomore Jonathan Schiffer is already out due to concussion protocol after he was hit in the head a few weeks ago.  
- On Friday, it was announced that Kahle was named a semifinalist for the Buster Posey National Collegiate Catcher of the Year Award (formerly the Johnny Bench Award). The 14 semifinalists will be cut down to three on June 3 with the winner being announced on June 22.
Reach reporter Andy Yamashita at sports@dailyuw.com. Twitter: @ANYamashita