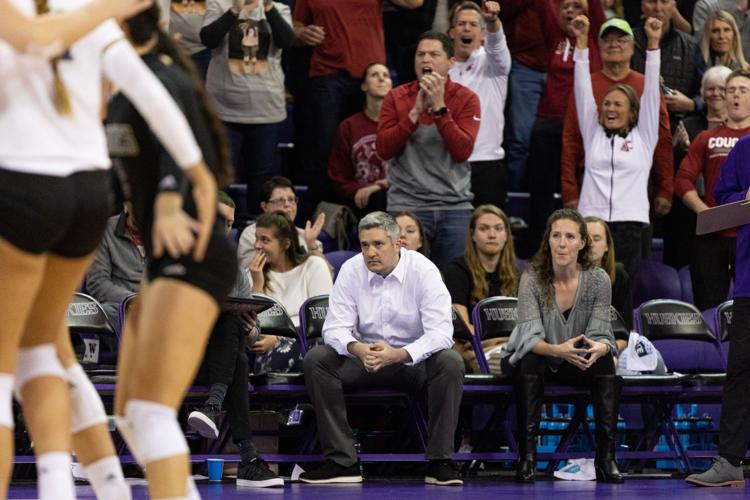 The Washington volleyball team went to a fifth set for the third time in as many home games. But after two successful comeback victories, the Huskies fell short against Washington State. 
"We've been able to fight our way out of it," head coach Keegan Cook said. "We just tried it too many times."
The Huskies (24-6, 15-5 Pac-12) finished the match with a .194 hitting percentage. They were blocked 14 times and aced six times. They outscored Washington State 80-74 in the entire match, but not where it counted. Two of the sets they lost, they lost by only two points. 
"Nice lead in the first set that we let go, some hitting that I didn't think was very courageous," Cook said. "They weren't December swings."
It was Senior Night, and Washington's final regular season match. The Huskies know they're in the tournament, and they know they're hosting. This loss won't end their season, but it will mean something as they keep going. 
"It's a painful memory, but sometimes you gotta have those in order to go somewhere you've never been before," Cook said.
The Huskies would much rather lose in the fifth set now than in a few weeks, once they're in the tournament. They've been working on starting out strong for a while now, after a string of tough starts to games. For the most part, they've crawled out of those holes, but now they know how it feels not to. 
The loss to Washington State ended an eight-game winning streak, but it wasn't a run without its problems. Cook pointed to execution issues on both offense and defense, especially at the start of games. The Huskies especially struggled against the Washington State block, and it won't be the last great blocking team they see this year. 
"We're going to see teams like that in the next few weeks, and we're going to have to be able to hit hot hands and attack with confidence and work around big blocks," Cook said. "We didn't do that well tonight."
There isn't one issue to point to for the Huskies, but things do start with the serve. In the fourth set, Ella May Powell served three aces in a four-point stretch, but she also recorded four service errors in the match. Overall, the Huskies had four aces that were outweighed by nine service errors. 
"Great serving teams serve the way they serve all the time, and I think that's also part of it," Cook said. "We served pretty timid those first couple sets. We didn't get them off the net, we didn't play defense behind it." 
The Huskies will find out who they face first in the postseason in the NCAA Tournament selection show Sunday at 5 p.m. on ESPNU. But they already know what they have to fix, because it's the same things that led to the loss to the Cougars. 
"They're going to see these things and they're going to look familiar and sound familiar," Cook said. "I think the pain of tonight will motivate them to get things fixed here next week." 
Reach Engagement Editor Hailey Robinson at sports@dailyuw.com. Twitter: @haileyarobin
Like what you're reading? Support high-quality student journalism by donating here.