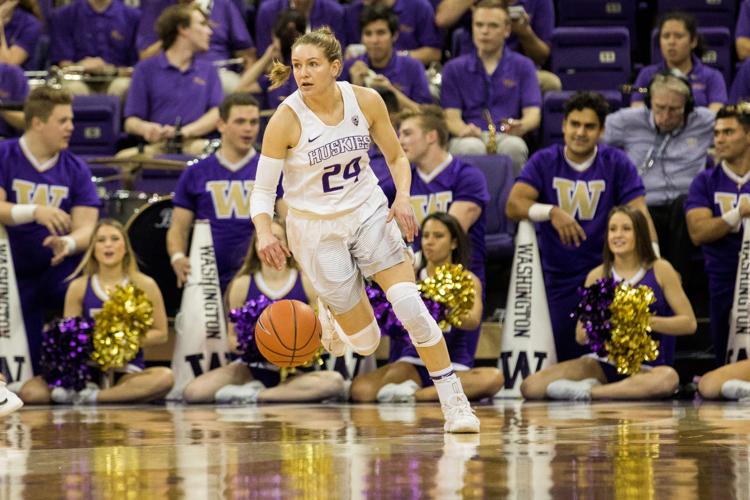 As the regular conference season winds down, the Washington women's basketball team is gearing up to take on conference rival Washington State on Friday in Pullman.
In their first meeting, the Huskies (8-16, 1-11 Pac-12) got off to a slow start and were unable to come back against the Cougars (8-16, 3-10 Pac-12) in a three-point loss.
WSU was led by star guard Borislava Hristova, known by conference foes as "Bobi Buckets," who scored 38 points in a career day in Seattle.
Now, as the focus shifts to Pullman, the Huskies are looking to beat the Cougars for their second conference win, and know that the WSU offense goes through Hristova.
"We lost Borislava early and often last time" head coach Jody Wynn said. "We created too many help-and-recover situations. We just have to have more attention to detail, right from the get-go."
But Hristova isn't the only player on the team. The Cougs are getting a ton of production from their other two guards, Cherilyn Molina and Alexys Swedlund, who average 16.3 and 11.5 points per game respectively.
"I don't know if you can shut them down," Wynn said. "They are very good, and can score at all three levels. But I do think limiting their shot attempts is big. We gave too many shot attempts to [Hristova], and we need to not create so many help and recover situations."
Looking for their second conference win of the season and their first conference road win since 2017, the Huskies know  they need to shut down WSU's guards if they want any chance of victory.
"I think that's going to be the key, is communicating with each other," senior Hannah Johnson said. "Letting my guards know when someone is cutting, or when someone sets a screen. I just want to be a big communicator, a big helper, and get the rebound."
A return home for Moser
For the last time in her UW career, Jenna Moser will host the UW women's basketball team on the farm that she grew up on in Colton, just 17 minutes south of Pullman.
While the farm will be coated with snow when they get there, it offers a fresh perspective for a lot of members of Washington's basketball team, who hail from warmer locations like Johnson (from Los Angeles).
"Jenna grew up on a farm and she's a pretty resilient girl," Johnson said. "You can tell that because she grew up working hard. You can kind of see why she is the way she is."
Tipoff is set for 7 p.m. on Friday.
Reach Assistant Sports Editor Alec Dietz at sports@dailyuw.com. Twitter: @AlecDietz
Like what you're reading? Support high-quality student journalism by donatinghere.