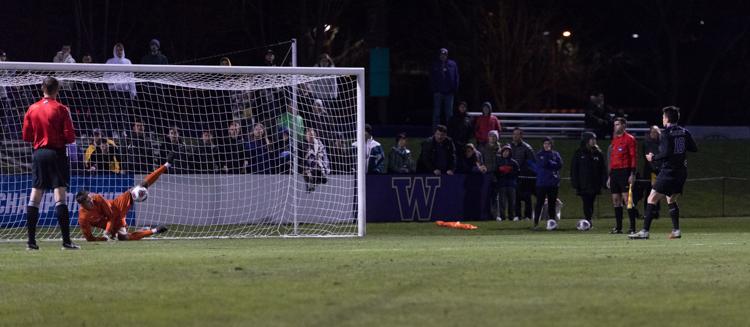 One and done.
That's something that no team with aspirations of a deep postseason run wants to put on its resume. But unfortunately for the No. 25 Washington men's soccer team, it was one and done for the second straight year in the NCAA Tournament. This time, the UW played to a 0-0 tie in double overtime and lost 5-4 in a penalty shootout to Lipscomb.
The Huskies (12-8-0) played the Bisons (10-9-0) to a standstill for 120 minutes and dominated statistically, outshooting them 14-5, but could not get that elusive goal and could not convert enough penalty kicks to keep pace in the shootout, resulting in another early exit.  
"Soccer's a cruel game," head coach Jamie Clark said. "We felt like we deserved more but Lipscomb bent and never broke. Unless you score goals, you can't out a game away. They hung in there and that was enough, and once it goes to penalties who knows."
NCAA Tournament Round 1: Washington men's soccer vs. Lipscomb
Washington and Lipscomb played like mirror images of each other with each squad pressing high up the field, trying to force the others' back line to make a mistake. As a result, possession swung wildly from one side to the other throughout the game.
"End of the season we definitely put an emphasis on defense first and this team, just the mentality to defend as a unit, defend as a whole team, everyone just bought in," senior defender Quentin Pearson said. "The last five games was just a testament to us being focused and putting in the work before games to make sure that we can get a clean sheet."
There were a few close calls offensively, like in the 51st minute, when the Dawgs launched four shots in the span of a minute, including two from freshman Dylan Teves.
The big problem was the guy in Lipscomb's goal, redshirt senior Chris Zappia. Zappia had an excellent night, tying his career best with eight saves.
"Credit to him," Clark said of Zappia. "It takes big plays and unfortunately for us the big plays were by their goalkeeper."
After a couple more narrow misses in regulation, the game went into overtime. Almost immediately, the rain started to fall and the wind started to pick up, making it even harder to get any consistent offense going. In the 93rd minute, the Bisons got their best shot of the game. After a few deflections in the box, Lipscomb freshman Ryan Dougherty ended up with the ball in a one-on-one with keeper Saif Kerawala and fired what would have been the game-winning shot towards goal. Fortunately, freshman Ethan Bartlow was there to partially deflect the ball, keeping the contest scoreless.
Before the penalty shootout, both teams decided to pull their starting goalkeepers. For the Huskies, this meant that redshirt sophomore Bryce Logan, who started six games this year in Kerawala's absence, would be coming on in one of the most pressure-packed situations imaginable for a keeper.
Logan made the save on Lipscomb's first attempt, and Washington nailed its first three PKs, giving them a 3-2 lead. But the Bisons made their next five, and Corban Anderson and Charlie Ostrem missed the Huskies' final two kicks, sending them to the off-season.
"It started well for us and then it's a crapshoot," Clark said of the shootout. "It's heartbreaking for the guys that missed because they deserved better, on either team."
It was another unfortunate result in the postseason for Washington, but those that are leaving, like Pearson, are optimistic about the team's future, with freshmen like Teves and Ostrem poised for bigger roles in 2019.
"This team means a lot to me, and I think it's been a great year," Pearson said. "Some performances this year, I'm excited to see where they go."
Reach reporter Chris Angkico at sports@dailyuw.com. Twitter: @chrisangkico
Like what you're reading? Support high-quality student journalism by donating here.