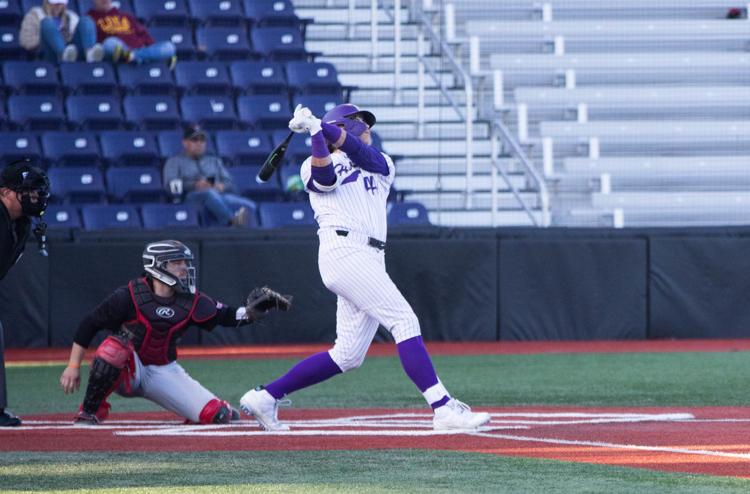 The walls of the Omaha Room are covered in history. Literally.
On the one side is a list of every single draft pick the Washington baseball team has ever produced, and above the rows of names, program legends Tim Lincecum, Brent Lillibridge, and Jake Lamb look out across the space at a collage of the Huskies' proudest moments.
Last season, it was a mish-mash of walk-offs and Washington alumni. Now, Lamb and Lillibridge stare across the room at senior Joe Wainhouse's No. 44.
"It's awesome," Wainhouse said of seeing himself on the wall. "I mean this is a great program, and I'm proud to be a part of it. I'm proud to have accomplished with this group, what we've accomplished over the past three years, and it's been a great time."
That accomplishment, of course, was helping guide the Huskies to their first appearance at the College World Series, 117 years after the program's founding. In celebration of the historic moment, the old collage was replaced by a new one featuring only pictures from the Huskies' time in Omaha last summer, the highest peak Washington baseball has ever reached.
"It's just setting the standards high," fellow senior Mason Cerrillo said. "No longer is it just being a middle-of-the-pack team but striving to be a team that can go to the College World Series and hopefully win it — just have that hard work mentality and just keep pushing."
A year later, and Washington is getting ready to say goodbye to Wainhouse, Cerrillo, and juniors Blake Burton and Adam Davenport, who are graduating early. This weekend's series against California is the last time any of them walk out onto the Diamond on Montlake, and the Huskies will want to send them off in a style befitting of their legacy.
During the Dawgs' run to Omaha, Cerrillo led the team in batting average as their leadoff man, starting 55 games in his first season with the Huskies. Wainhouse was second on the team in average and also the leader in home runs with 19. He earned All-Pac-12 and Conway Regional MVP honors for his efforts.
This season has been a little different. Cerrillo's average isn't the lofty .341 it was last year, and Wainhouse struggled at the plate for most of the season until some new eyewear lifted him out of his slump. But head coach Lindsay Meggs still credits them, along with Burton and Davenport, as important figures in the transformation of UW baseball.
"They should take a lot of pride in the fact that they're on the ground floor with a group of guys who came in here and made history," Meggs said. "They helped us do something no one else has ever done in over 100 years in this program. I think they helped us sell to the University of Washington baseball community, the Seattle baseball community, [and] the Pac-12 that this is an Omaha program."
Cerrillo and Wainhouse got something back too. Both players spent their first two years bouncing from team-to-team, with the former leaving Washington State and the latter returning to the west coast after a season at Ole Miss.
After all that moving around, both immediately said they would miss the bonds they made in the Washington clubhouse more than anything else when they move on from college baseball.
"This is the place I've been the longest," Wainhouse said. "This is where I've really experienced the most of my college baseball. I've been in and out of the other two places pretty quick, especially the JuCo one. But I think something cool that I got to experience last year was my first second season at a school."
And while Wainhouse may like being on the wall in the Omaha room for now, he hopes he won't be there for too long.
"Hopefully there are a couple more Omaha runs between now and then," he said. "Maybe we'll get some new guys up there also."
Reach reporter Andy Yamashita at sports@dailyuw.com. Twitter: @ANYamashita
Like what you're reading? Support high-quality student journalism by donating here.