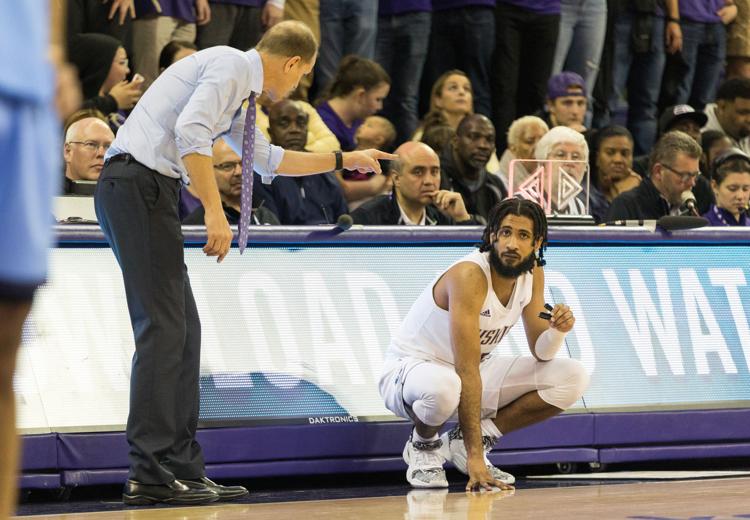 The Washington men's basketball team has an offense problem. Specifically, an offensive problem in the half court, where without Quade Green, the UW has been a mess. 
Without perhaps their best shooter and decidedly best facilitator, the Huskies (11-6, 1-3 Pac-12) have had to shift completely away from an offense run effectively by Green to a run-by-committee approach. 
"I'm not putting [Quade's responsibilities] on Jaden," head coach Mike Hopkins said. "I'm putting them on everybody. It's what we talked about with turnovers. Everybody take away one more, everybody get one more assist, one more pass from good to great and we'll shoot better, not turn it over as much, and we should be better."
So far though, it's proven to be an uphill challenge for a suddenly undermanned squad. Before Green's academic ineligibility held him out against Stanford and California, the Huskies were averaging 73.6 points per game. Without him, every offensive possession has been a struggle and they've averaged 17 fewer points per contest. 
What's worse, if the Huskies don't get out in transition and produce turnovers, the offense has almost no flow. If you take out its points in transition, Washington averages just 47.5 points per game, and that includes a five-minute overtime period. 
Minus its premier point guard, the Huskies have to turn to its backup point guards to run the offense. That responsibility will fall on Elijah Hardy, Marcus Tsohonis, and occasionally Jamal Bey. 
Through the first two games of Green's absence, the offensive facilitation has run mostly through sophomores Bey and Hardy, who struggled through back-to-back losses in the Bay Area. The pair combined to average three assists last weekend, which doesn't quite make up for Green's 5.3 assists per game average. 
"[Bey] was really effective, especially in the second half," Hopkins said. "We were just an inch away from winning both games and we've just got to figure out ways to hopefully now put ourselves in position to get better leads and hopefully pull out those games and anything close." 
Originally announced to redshirt by head coach Mike Hopkins, the true freshman of the group, Tsohonis, played six minutes to California, scoring three points and adding a single assist to Washington's 10-assist total. 
"I thought Marcus had some really quality minutes," Hopkins said. "He didn't play a lot, but he showed a lot of poise out there. I was concerned how he would be because he hadn't played but he looked like he'd been playing all year."
So what does all this mean for a Washington team that was once a sure-lock NCAA tournament squad that had received Final Four and national championship hype? For one thing, it means they don't have a lot of time to figure this out.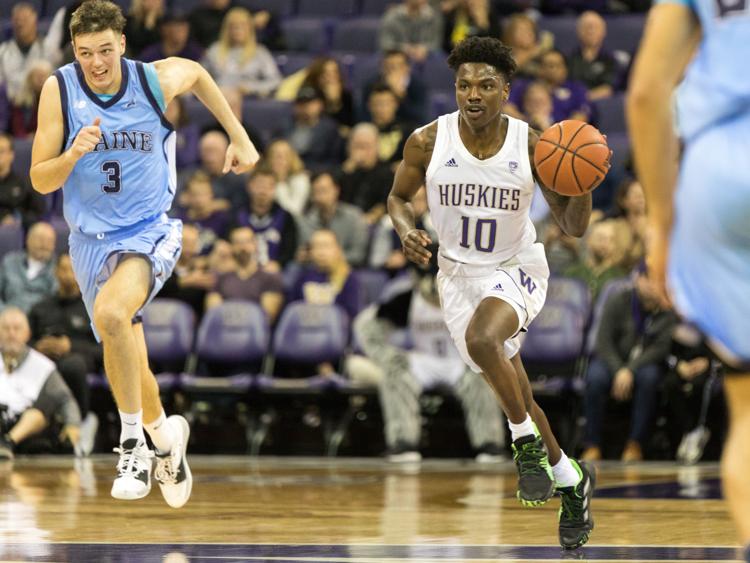 With freshman talents Isaiah Stewart and Jaden McDaniels almost certainly moving on to the NBA next year, the window for a deep run in the NCAA tourney, as of now, is small. The Huskies don't have the luxury of waiting for someone like Bey developing into a serviceable point guard like David Crisp, or hoping that young and unproven Hardy and Tsohonis can give them good minutes. But one of those things has to happen if they want to make a run at even making the NCAA Tournament. 
"David wasn't a true point guard," Hopkins said. "I felt like David was a scoring guard who could play the point guard. He did a great job for us, led us to an NCAA tournament and a Pac-12 championship. You go back to our statistics, point guard, two-guard, whatever, we've got to limit our turnovers."
Bey has been given the most opportunity to prove he should run the offense, playing 33 minutes against Cal and taking minutes away from traditional point guards Hardy and Tsohonis down the stretch of Washington's loss. While he's proven capable of spelling at point guard and managing the offense in spurts, he has yet to prove he can run the offense on a consistent basis. 
Hardy and Tsohonis have not had the same chances. Both recruited as point guards and ball handlers, Hardy struggled in his first career start at Stanford, shooting 1-of-7 from the field and turning the ball over three times. Tsohonis has played just 21 minutes all season. 
Hopkins has already stressed that he'll need all three players to contribute any given night, but you can't help but feel like Hardy and Tsohonis should be getting more run. While without a proven track record of success, neither player saw the court in the final 21 minutes of Washington's loss to California.
This weekend against the Oregon schools represents a huge opportunity to bounce back from what was a devastating Bay Area trip. Both the Beavers and Ducks are top-100 teams, according to KenPom, and both are coming off big wins against Arizona. 
If the Huskies have any hope of a return to the NCAA tournament and meeting the supremely high expectations that came at the beginning of the season, someone is going to have to step up and run this offense.
Reach Sports Editor Alec Dietz at sports@dailyuw.com. Twitter: @AlecDietz
Like what you're reading? Support high-quality student journalism by donating here.