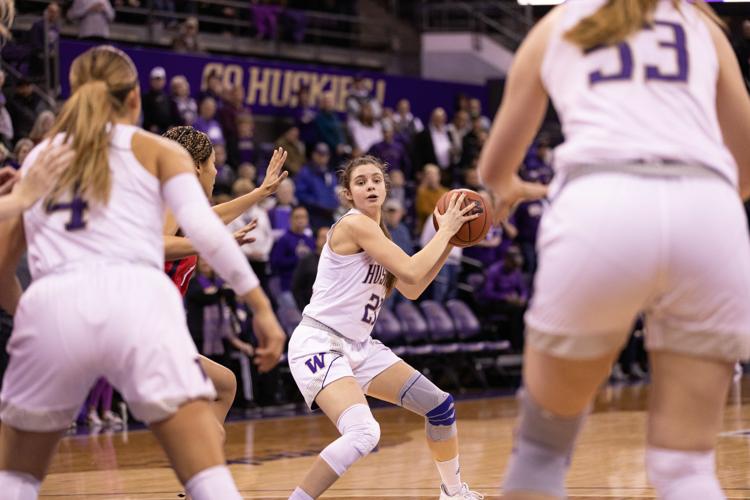 The Washington women's basketball team's best first quarter of the season couldn't secure a win, the Huskies losing a double digit lead in a matter of minutes to fall 66-58 to No. 21 Arizona.  
The first quarter ended with the Huskies up 27-8, with only Arizona's Aari McDonald managing to score any field goals for the Wildcats. The Dawgs forced nine Arizona turnovers in that quarter, junior Rita Pleskevich leading the Dawgs in steals with three. The Wildcats managed only three offensive rebounds and a single second chance point. 
Senior Amber Melgoza led the Huskies with 12 points, shooting 5-for-5 and making both attempted three-pointers. Early on, the Dawgs went on a 10-point scoring run, with six of the points coming from Melgoza to get off to a big lead. 
In the second quarter, the momentum shifted the other direction. The Wildcats went on an 11-2 run to cut Washington's lead to single digits, and went from shooting 21.4% to shooting over 50%. Washington's shooting went the other way, going from a successful 63.2% to only 27.8% in the second quarter. 
The Huskies switched from shooting (and making) layups to, less successfully, shooting threes. In the first quarter they were 6-for-7 shooting layups, and 2-for-4 shooting threes, but in the second quarter they went 1-for-2 on layups and 1-for-8 on threes. That changed the game entirely, putting it entirely in Arizona's favor. 
With just over three minutes left in the third quarter, a pair of Sam Thomas free throws completed the Arizona comeback, tying it at 41-41. Less than a minute later, a McDonald layup gave the Wildcats their first lead of the game.
The Huskies made 12 field goals in the first quarter. In the next three quarters, they made just 12 more. They ended that first quarter leading by 16 points, and lost the game by eight.
The Huskies finished 3-for-16 from behind the arc, finishing 1-for-12 in the final three quarters.
Reach Engagement Editor Hailey Robinson at sports@dailyuw.com. Twitter: @haileyarobin
Like what you're reading? Support high-quality student journalism by donating here.