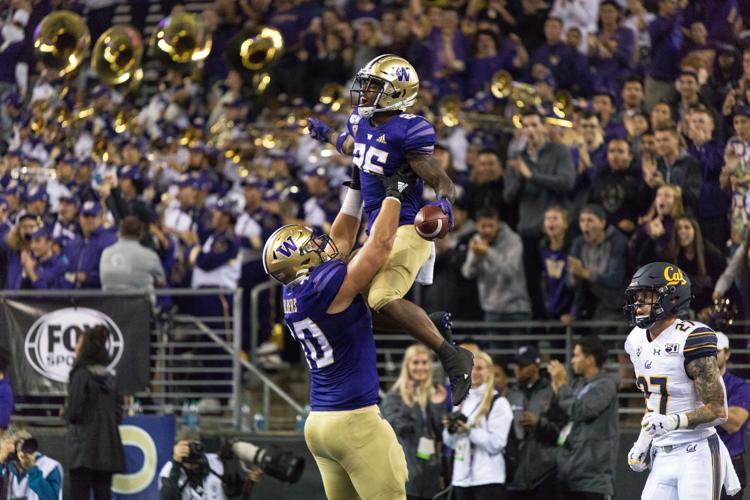 The Washington football team's opener against Michigan was canceled Thursday afternoon following a statement released by the Big Ten Conference that fall sports would be played with a conference-only schedule.
The Big Ten announced that if the fall sports season is played, it would occur without non-conference games amid concerns around COVID-19.
"By limiting competition to other Big Ten institutions, the Conference will have the greatest flexibility to adjust its own operations throughout the season and make quick decisions in real-time based on the most current evolving medical advice and the fluid nature of the pandemic," the statement read.
The ACC is reportedly expected to follow suit in eliminating non-conference matchups, according to Stadium.
The UW Athletic Department said Thursday afternoon that this game is currently the only change to the 2020 football season and that it could be rescheduled for another year.
"Our fans and football program have been looking forward to this game for several years, but we understand this decision was made due to the impact of COVID-19 and prioritizing the health and well-being of student-athletes," UW Athletic Director Jen Cohen said in a press release. Michigan Athletic Director Warde Manuel and Cohen are "currently in the process of discussing details on a future return date and will provide updates as they become available."
The news comes a day after the Ivy League became the first conference to make scheduling changes to its 2020 season, postponing all sports until Jan. 1, 2021.
Arguably one of the most anticipated games in school history, the Huskies would have hosted the Wolverines in a tough non-conference match-up in the first game of Jimmy Lake's tenure as head coach. 
The UW football team opened the 2018 season with a similarly anticipated match-up against one of college football's powerhouses in Auburn, a game the Huskies lost 21-16. 
Another matchup impacted by the news includes the Oregon versus Ohio State football game that was scheduled for Sept. 12 in Eugene.
The Huskies are still scheduled to travel to Ann Arbor to face the Wolverines on Sept. 11, 2021, but there is no word whether this year's game will be rescheduled. 
If the Pac-12 Conference implements a similar policy, which The Athletic reports is likely to happen in the coming days, then the Huskies would also lose their next two home games against Sacramento State and Utah State in mid-September. 
The cancellation of the Michigan game and possibly others comes with major financial ramifications for the university. UW Athletics has already announced cost-saving measures go into effect July 1 and will stay in place until June 30, 2021.
To start, contract staff will take voluntary salary reductions. Head coaches are looking at a 5% minimum cut, while assistants will be scaled down a minimum of 3%. Additionally, the 156 professional, classified, and union staff will rotate two- to four-week temporary furloughs. According to a press release, this will save $5 million — or 10% of the staffing budget. 
Along with lowering salaries, Washington's overall operating budget will be reduced by 15%, or approximately $8.5 million, and current vacant positions will remain unfilled until June 30, 2021. Any non-essential vacancies that occur during the year will stay open for a minimum of three months.  
Reach reporter Anthony Edwards and News Editor Jake Goldstein-Street at sports@dailyuw.com. Twitter: @edwardsanthonyb @GoldsteinStreet
Like what you're reading? Support high-quality student journalism by donating here.