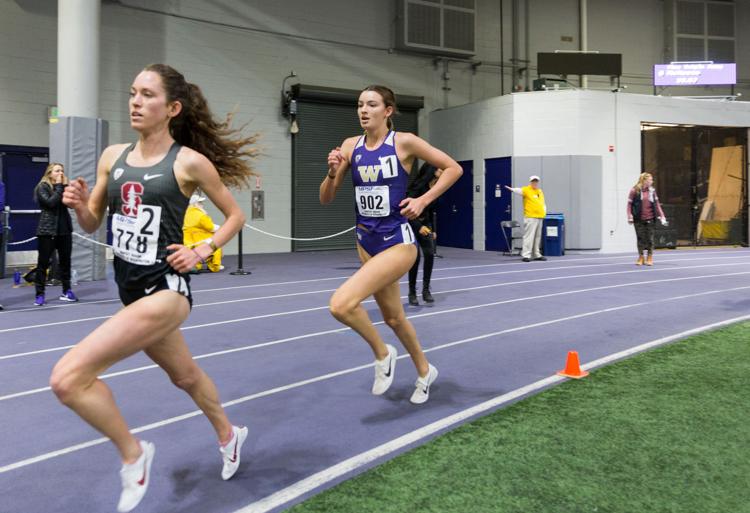 In a solid day for the Washington track and field team, the Huskies got a solid performance from junior Katie Rainsberger, who was the first athlete to run for the Dawgs and the first to qualify for a final tomorrow in the mile.
In the lone heat that contained a protest, Rainsberger finished 10th with a 4:39.61 and sixth in her heat. The junior finished sixth in her heat, but because of her strong time, she was able to grab one of the final two spots after the automatic top four finishers from each heat. She is also scheduled to run the women's 3000-meter run final along with the mile tomorrow.
Oregon transfer and junior Mick Stanovsek barely missed finals for his mile run. In his heat where athletes picked up the pace, Stanovsek was able to finish with a 4:07.87. Although he had the seventh fastest time, he also finished seventh in his heat, which meant that he came up just outside the final two qualifying spots based on time. Stanovsek had started out fast as he was first with three laps to go until he started slowing down in the final lap.
For the women's distance-medley relay team, they came in with the 12th best time nationally, and finished seventh with a 11:10.94. Senior Lilli Burdon was able to keep the Huskies in seventh place in her anchor leg, which meant Washington scored points nationally in the DMR, and secured first team All-America honors. The team was comprised of sophomore Allie Schadler and seniors Imani Apostol, Hannah Derby and Burdon.
Senior Isobel Batt-Doyle capped off her best indoor season with a 12th place finish in the 5000-meter run. Despite a finish outside of the top-10, she competed with one of the more deeper 5k fields that included decorated distance runners Alicia Monson and Weini Kelati. She also finished her season with a second All-America honor.
For the men's distance-medley relay team, they had came in with the seventh best time in the country, but finished tenth in Birmingham. They ran a 9:44.89. Redshirt freshman Talon Hull filled in for sophomore Devan Kirk.  
Senior Fred Huxham and Rainsberger are both expected to run tomorrow. You can catch them on ESPN3 again.
Reach reporter Daniel Li at sports@dailyuw.com. Twitter: @Daniel_Li7