Perhaps no quarterback in Washington's history has faced more expectations than Jacob Eason. Even before the former five-star Lake Stevens signal-caller had announced his decision to transfer from Georgia, the fandom began clamoring for the hometown hero's return. 
So has quarterbacks coach Bush Hamdan seen anyone come in with more outside noise than Eason in recent memory?
"No. No, I haven't."
Coming out of high school as the fifth-best prospect according to 247's composite rankings, Eason won the starting job at UGA as a true freshman and appeared in 12 games for the Bulldogs. In that season playing in the SEC, Eason got his first taste of major college football and the expectations of quarterbacking in the modern era. 
But after suffering a knee injury in Georgia's season opener in 2017, the Bulldogs turned to Jake Fromm and rode him all the way to the National Championship game, even with a healthy Eason. Shortly after the end of the season, Eason decided to move on and transfer. 
Less than a month later, Eason made it official: He was going to trade in the red and black for purple and gold. Even with a proven starter at quarterback in 2018, fans were looking forward to the thought of a five-star phenom with SEC experience starting in 2019.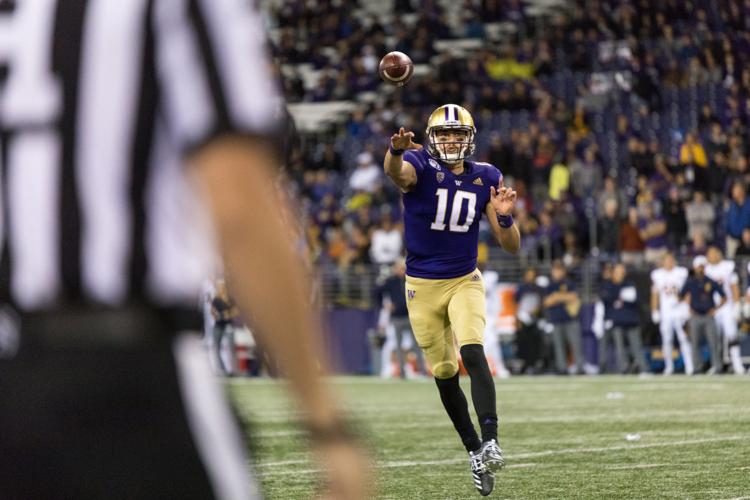 "It was a new challenge for me, and it was something I would rather not have done, but at the same time I'm glad I had the experience to do that," Eason said of sitting out 2018. "Going out and watching from the sideline each game was different, but I got to watch [Jake] Browning prepare for a game and how he prepared off the field and I learned a lot. Some of those things I can carry with me throughout this season, and try to keep going, I think those guys definitely did leave a legacy here."
But aside from watching how the Pac-12 all-time wins leader prepared for football, Eason saw firsthand the trials and tribulations that Browning was thrown into. As his career progressed, Browning faced an almost insurmountable amount of expectation to succeed and flourish, especially after four years in the program. 
"Having that ear off was a new, unique experience for me, I learned a lot from it," Eason said. "I got to learn and see how he handled it, and I also had some self-experience with that, coming out and doing that thing my freshman year. I gained a little new insight from that, for sure."
A herculean arm and a collected mind
After winning the starting job over Jake Haener, it was time for his season debut. While Washington fans have touted Eason as a Heisman candidate and a quarterback who will lead them to the promised land, or a national championship, the junior quarterback has blocked out all of the noise. 
Well, at least as best he can. 
"I try to stay away from that stuff and not focus on it," Eason said. "I'd rather focus on this team and put my time and energy here in the facility, and when I'm off the field I'll hang out with friends, and talk to people I'm close with. I try not to focus on all the expectations and all the fandom and all that stuff, like I know it's there, but I just focus as little as possible on that."
For now, the quarterback has put all of his focus into leading an offense that was led by a QB for almost half a decade before him. According to his teammates, Eason isn't a very fiery or intensely vocal leader. His demeanor is more calm and cool, rather than the spectacle of say, Baker Mayfield.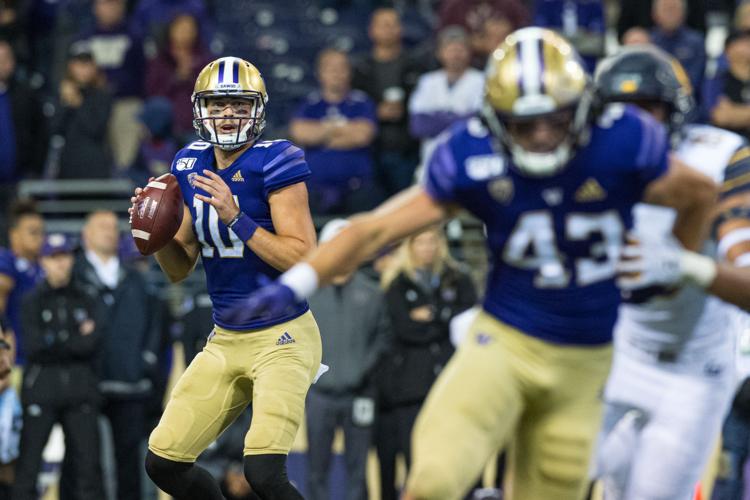 "He's been good about that, he's getting confident in there," center Nick Harris said. "He's a really collected guy, and he's really calm so he's never too high or never too low, which is good because I'm always too high-strung and ready to get stuff cracking. It's good to have him there to level us out."
However, despite stepping into the offense as a starter for the first time at Washington, Eason understands he needs to take a leading role in the offense for it to function and thrive. 
"I'm not super rah-rah, big hype guy, but I'll lead by my play and the way I do things on the field," Eason said. "I try to stay even-keeled, I'm not going to be down at guys or yell at guys. I'll definitely do my job at the quarterback role, and try to help out in any way possible." 
An added benefit to Eason sitting out a year was the time he got to spend building rapport with his teammates, including his center, who says that because of the craziness and chaos that the offensive line generates up front, a quarterback with a calm attitude was a positive dynamic for the offense.  
"When he says something, it goes, and you feed off it 'cause he means what he says," Harris said. "He has conviction in what he says out there and he's confident so it's a different dynamic but it's a good dynamic, especially with the guys we have up front because we have some characters up front."
The quarterback nicknamed "Skinny," a name that no longer really describes the 6-foot-5, 227 pound goliath of a quarterback as it once did when he was given the name at five years old, said that Harris and the rest of the offensive line has been a huge boon for him with a wealth of experience. 
When he came into the program, he not only looked at his predecessor at quarterback and the large group of seniors who left the program after last year, but also at his center and the rest of his offensive line, which features three seniors and two other players who started every game for the UW a season ago. 
"He's not here to carry the world on his shoulders," Hamdan said. "He's here to operate on third downs and throw to guys in purple jerseys, have fun doing it, and trust the process. We spent a lot of time making sure he's playing in the moment, one practice at a time, one day at a time, we're going to continue to do that." 
Skinny Season
Through four games this season, the UW's new quarterback has thrown for 1,063 yards, 10 touchdowns, with just two interceptions. When describing his own performance through the first part of the season, Eason says that he's been good by his standards but that he's still taking each moment one day at a time in hopes to improve even more. 
As far as those expectations go, well, they haven't slowed down. Not even after a loss to Cal where the QB threw fewer than 200 yards with no touchdowns and an interception. 
"The crazy part about it is how well he's handled it," Harris said. "I don't even think I would handle it that way. He's been super calm and collected about that stuff. Hats off to him, because he came in with so many expectations that I think most people would combust and go off the deep end, he's just getting better."
Since that loss to the Golden Bears, Eason has doubled down as one of the country's best performers in the last two weeks, throwing well over 500 yards, with his most recent game against BYU netting him 290 yards passing, three touchdowns and just one interception in a nearly flawless performance.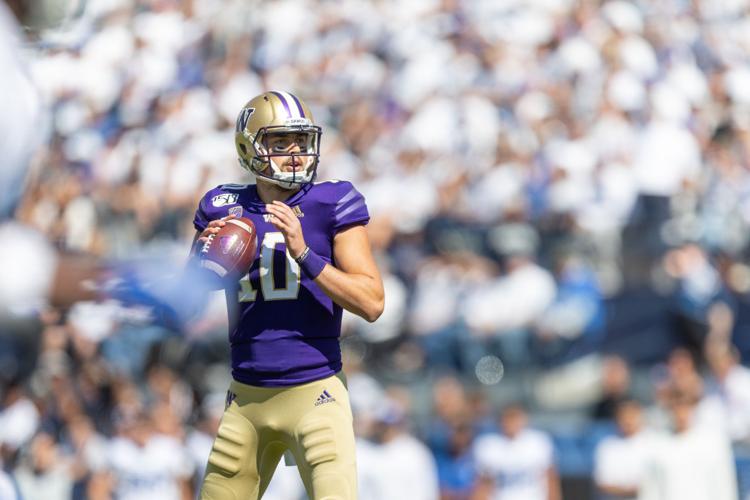 The praise has come in droves for the towering quarterback, with ESPN analyst Kirk Herbstreit naming Eason his top performer from last week, and draft expert Todd McShay including the QB near the top of his draft boards for 2020. 
As the season progresses, it will be imperative for Eason and the offense to continue to block out all the noise, in the fashion that they already have, but it will only get harder. If the Huskies continue to win the majority of their games, the hype and hysteria for the QB will only get higher, but if losses begin to build up, negative attention will flood around the UW program. 
Even for Browning and the Huskies of before –– who had brought the UW to three straight New Year's Six bowl games after joining a program who had yet to record a 10-win season since the early 2000s –– doubt and disappointment loomed from the fans.
But as long as he's getting better, and the UW offense is getting better, the Huskies aren't worried about the noise. 
"The way he's been dealing with it is how he's played the last couple of weeks," tailback Sean McGrew said. "Coming out here and throwing the rock and doing well, that's his way of responding to the noise." 
Managing Editor Josh Kirshenbaum contributed reporting to this article. 
Reach Sports Editor Alec Dietz at sports@dailyuw.com. Twitter: @AlecDietz
Like what you're reading? Support high-quality student journalism by donating here.