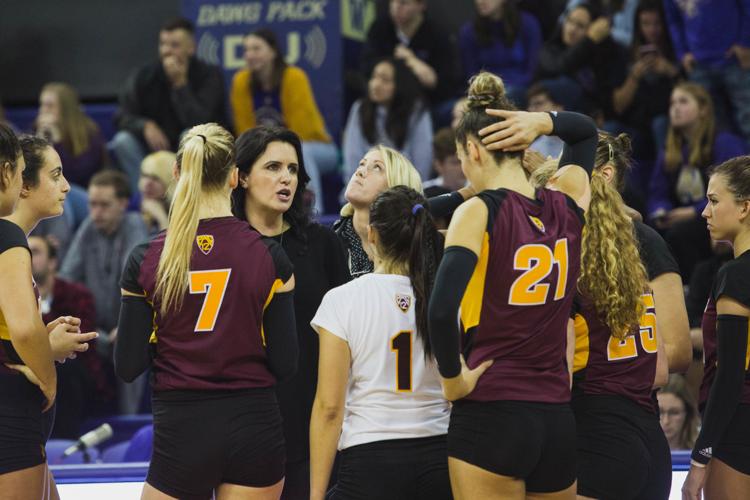 Washington welcomed a familiar face to Hec Ed Friday night as UW legend Sanja Tomasević returned as the coach of the Arizona State volleyball team. 
"It's always homecoming for me when I come back here," Tomasević said after the UW's game against ASU. "It brings back a lot of memories, a lot of good memories and it was fun today because I had a lot of my former teammates sitting in the bleachers as well. A lot of emotions, but as a coach you just have to dial it back in and focus and what you're here for."
In her decorated UW career, Tomasević totalled up 156 service aces as an outside hitter, good for first in school history. She also tops the record books in single-season totals for aces (58) and points (686), and was inducted into the Husky Hall of Fame in 2016.
Playing for Jim McLaughlin, she also helped guide the Huskies to a national championship in 2005.
"People would always undermine us at the beginning of it all," Tomasević said. "We knew how good we could be. We bought into the system, Jim was preaching it and it was the coolest thing ever. We all drank that kool-aid, we all believed in Jim, and we did whatever he told us to do, and that helped us bring the program where it is."
The former UW star is now in her third season as the coach at ASU, leading the Sun Devils to a 10-8 record in 2019. Coach Tomasević has guided the Sun Devils from a bottom feeder to a much more respectable team in her time at Arizona State. Her first year started rough, as the Sun Devils went winless in conference play in 2017. The following season, ASU managed a 14-18, 5-15 record and have accumulated a winning record thus far in 2019.
When the Sun Devils came to Hec Ed on Friday, they were ready to play. ASU took the first set from Washington, 25-20, before ultimately falling in four sets.
"Complete respect for Sanja and her staff," Washington head coach Keegan Cook said. "Watching the film, they're a well-coached team and they do things repeatedly well. I'm not surprised they were ready to play tonight. She's a great coach and her team reflects that, just in how disciplined they are."
After the game, Tomasević was able to reflect on her time at UW.
"We did win a national championship but we learned so many life lessons," Tomasević said. "We always talk about wins, but perseverance, grit, the things we had to go through to be where we finished. It was the coolest thing. As a coach right now I want my players to learn those same lessons."
Reach reporter Anthony Edwards at sports@dailyuw.com. Twitter: @edwardsanthonyb