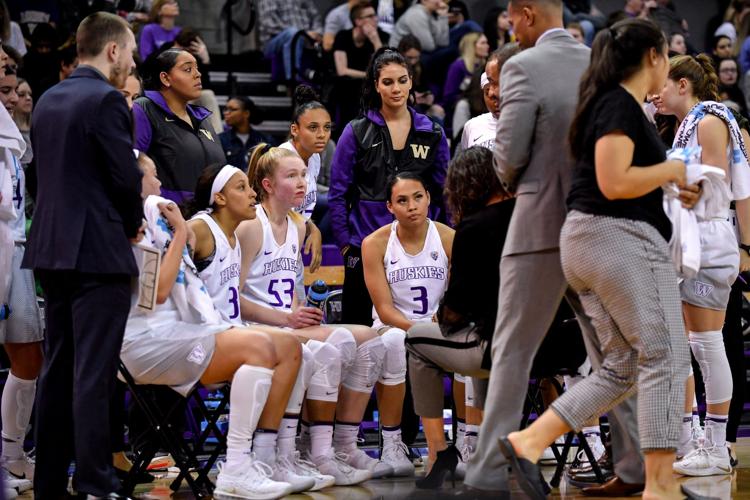 No game in the Pac-12 is a cupcake, and this weekend will prove no different as the Washington women's basketball team gets ready to take on No. 5 Oregon and No. 9 Oregon State at Alaska Airlines Arena.
The Huskies (8-11, 1-6 Pac-12) will exit the weekend after maybe the toughest 10-game stretch in the country, having played seven teams ranked in the top-25 in just over a month.
Six of those teams are now ranked in the top-10.
However, Washington has been close in every game they've played since conference season started, save for their loss to No. 6 Stanford.
In their latest loss to California, which at one point was a top-15 team but is now unranked, the Huskies had a two-point lead heading into the fourth quarter.  
"You make 13 threes, you play so well, and you still lose," head coach Jody Wynn. "But in our heart, we won in a lot of areas. We can't measure our success right now solely on wins and losses, or we're going to bury ourselves. We have to get better everyday and it's going to take effort combined with performance for 40 minutes to get wins."
Certainly, the level of competition is contributing — the Pac-12 is undoubtedly the deepest conference in the women's basketball. But for being so close, why haven't the Huskies stolen a conference game against a ranked team yet this season?
"We've been doing a pretty good job of putting four quarters together, but we could do a better job," senior Jenna Moser said. "We need to recognize when they are going on a run, and then settle ourselves down. We're going to need to continue to make shots, we need to keep our confidence high enough so that we have 10 and 11 contributors so there is no lapse when we sub."
Against the top-ranked Oregon schools this weekend, the Huskies will look to avenge earlier losses to both schools on the road, where they started poorly but kept it a game late in both.
"There's no magical secret; you have to perform," Wynn said. "You have to be in tune, you have to keep your opponent off the offensive glass, and you have to limit your turnovers. I don't know what key thing it's going to take, except for us continuing to believe in one another and continuing to play hard and work hard for one another."
Stopping teams with so many options
Both the Ducks (17-1, 6-0 Pac-12) and the Beavers (15-3, 5-1 Pac-12) boast teams with a plethora of offensive options. In the UW's previous game against Oregon, it was Notre Dame transfer Erin Boley, not National Player of the Year candidate Sabrina Ionescu or Ruthy Hebard, who torched the Dawgs for 28 points.
Against Oregon State, star point guard Destiny Slocum did drop 30 points on Washington, but with a lineup as deep and tall as the Beavers are, it was hardly a one-woman effort.
So what is the key against teams with so many offensive weapons?
"A lot of it is knowing your scout and knowing that they can all create their own shot," Moser said. "But more of it is when they are going to do that. We need to be locked in on the defensive end, all five people on the same page, because it only takes one defender not paying attention to lose track of your man. They'll exploit that."
Oregon's lineup of Ionescu, Hebard, Boley, Maite Cazorla, and Satou Sabally might be the best starting-five in the nation, and the Beavers' squad isn't that far behind. Washington will have to be well-disciplined and organized on defense if they have any chance of an upset.  
Reach Assistant Sports Editor Alec Dietz at sports@dailyuw.com. Twitter: @AlecDietz
Like what you're reading? Support high-quality student journalism by donating here.