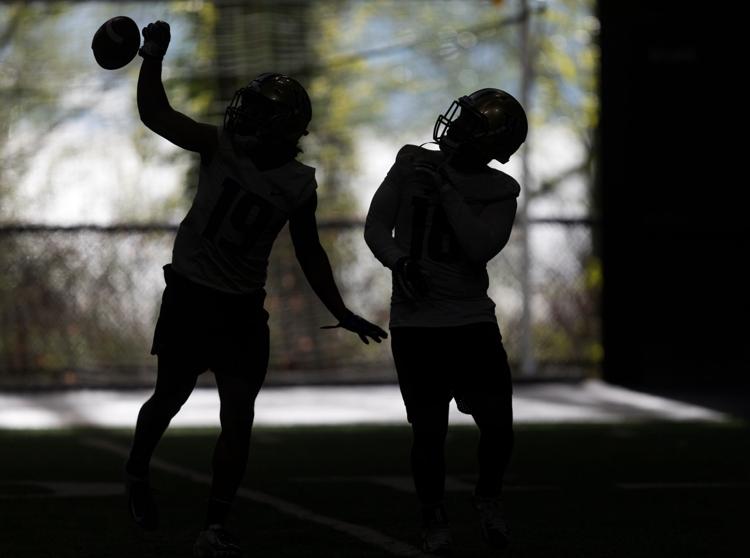 Ten years ago, it wasn't very common for student-athletes to forgo their spring quarter or semester in high school to attend college as a 17 or 18-year old. Most high schoolers are grinding away for their last semester, getting ready to walk on graduation day and go to prom and live the high school experience.
But lately, that trend has begun to change. Just this season, the Washington football team has nine freshmen participating in spring practice. Nine 17 or 18-year olds who are skipping prom, their high school graduation ceremony, and instead have decided to get a jump on their college careers at the UW.
"I think it's the greatest thing you can do," defensive backs coach Will Harris said. "Some kids obviously still want to be kids, but if you can get in here early, that's the way to go."
Last season, the Huskies had three early enrollees: quarterbacks Colson Yankoff and Jacob Sirmon and wideout Austin Osborne. Now, it's spreading to the defense as well.
Cameron Williams is one of those freshmen who decided to skip the tailend of his high school experience and compete with the very talented but recently depleted defensive back room. Gone are the familiar faces of Byron Murphy, Jordan Miller, JoJo McIntosh, and Taylor Rapp.
Playing safety for the Huskies so far this spring, Williams has an opportunity to get a jump on his fellow freshmen who are enrolling in the fall and competing for reps and playing time at safety.
"You can see him picking it up and making calls," defensive coordinator Jimmy Lake said. "Even directing traffic — because you have to be able to direct traffic back there and tell your corners what they're doing, and he's been able to do that the first couple of days."
Several times over the past two days of spring practice, Williams could be seen next to either Harris or Lake taking in information and watching the more experienced players like safeties Brandon McKinney and Isaiah Gilchrist. To Harris, that one-on-one time in the spring — Williams is the only freshman defensive back to enroll early this year — is absolutely crucial and will greatly help Williams in the fall.  
"Anytime you can get somewhere and get acclimated and see how everything gets going and see how it's run, it's a true benefit," Harris said. "It's kind of like coming in and having a redshirt season, but just getting out under his belt and getting ready, he's going to be ahead."
But Williams is also in a fairly unique situation. In most position groups, you have one position coach, and maybe a graduate assistant to help out. In the defensive back room, he has the benefit of having two coaches to work with and learn from, and giving him extra one-on-one time when he needs it.
"Every single day there is going to be more defenses coming in and he's going to have to be able to keep up," Lake said. "He's been in there watching and grinding tape. I just love his effort right now and his want-to to learn the defense."
And the Huskies may need him in the fall. Down both starting safeties from last season in Rapp and McIntosh, Williams has been getting plenty of run so far this spring, and had a nice break-up on a deep ball from quarterback Jake Haener to Hunter Bryant.
While the trend for young high school athletes to enroll early becomes more and more of a norm, if these young players are willing to forgo some high school festivities, it can make a big difference. Harris, who played for USC from 2005-09, remembers how hard it was to learn things as a freshman.
"I remember it like it was yesterday," Harris said. "If you can get in there early, and put an extra quarter or semester under your belt, it's tremendous."
Other Notes:
- Jacob Eason finally unloaded his arm a bit today in practice after keeping his deep throws to a minimum on Wednesday. In an 11-on-11 drill, he found Terrell Bynum for a 75-yard touchdown and then found Marquis Spiker just two plays later for around 65 yards. By my count, Eason finished 9-for-11 on completions in scrimmage situations (11-on-11 and 7-on-7) for 193 yards and those two touchdowns.
- The only interception of the day came from Elijah Molden, who picked off freshman Dylan Morris in a 7-on-7 drill after the ball was tipped around in tight coverage.
- Bynum was active today and taking a lot of first-team reps for the Huskies as Aaron Fuller again did not participate in practice. Along with the long touchdown pass hauled in from Eason, the sophomore grabbed the most impressive snag of the day when he leapt up for a contested ball from Jacob Sirmon and hauled it in despite tight coverage from redshirt freshman corner Kyler Gordon.
- Myles Bryant, Gordon, and others were fielding punts today in a warmup drill. Fuller took some Wednesday, so it seems like it is still his job to lose, but Gordon especially represents an interesting and athletic option in the future.
Reach Sports Editor Alec Dietz at sports@dailyuw.com. Twitter: @AlecDietz