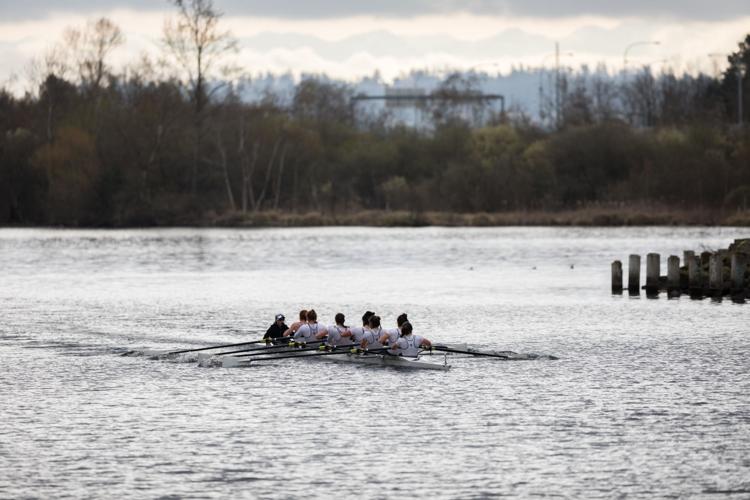 The storied rowing rivalry between the UW and the California will be renewed Saturday as the Huskies head to Redwood Shores, Calif. to face the Golden Bears in the annual UW-Cal Dual.
The regatta is expected to be one of the most competitive matchups for the Dawgs this spring. Cal's women's crew is second only to the UW in the NCAA rankings , while Cal's men sit atop the USRowing Coaches Poll .
"It's super exciting for us," men's head coach Michael Callahan said. "They're the top of the bar right now. Whenever you get to face No. 1, you raise your game for it. It has that big game, big race feel to it."
But Callahan wants his crew to focus on their performance rather than the payoff.
"I think we're just trying to get the best performance out of each boat and each guy," he said. "We're a team that's not looking for the win or loss, but the execution of the day. If we execute, I think we're competitive. If we don't, then they're going to make us pay."
The men spent a lot of their preparation time shoring up lineups and testing different combinations. Callahan said many of the athletes would still consider last weekend a big one for racing, just with an internal focus. The coxswains were changed as the crew focused on solidifying the rhythm section of their boats.
"Rowing technically, rowing more proficiently —  a lot of it is just fundamentals," Callahan said. "It's nothing really fancy. It always sounds like coachspeak, but it really comes down to that."
On the women's side, most lineups will look the way they did last weekend against Texas and Michigan, but a host of changes were made to the varsity four boat. Sara Clark remains in the three seat, but Kenzie Waltar moves to the two seat, and Julia Paulsen moves from the stroke to the bow. Chiara Ondoli will take over the stroke seat.
"Both teams have been having a strong first half of the season, and so to be able to see them now three weeks before the Pac-12s is really great," women's head coach Yasmin Farooq said.
Both the men's and women's crews split their races against Cal last year, and they expect the same level of competitiveness this weekend.
"We have to plan for this to be an incredibly challenging race that's really going to test us," Farooq said. "I think, bottom line, we're going to learn more from this race than any race we've done so far this season."
Saturday's races are set to begin at 9:00 a.m., with the women's freshman eight. The women's and men's varsity eight races will wrap up the day, beginning at 10:36 and 10:48 a.m., respectively. The complete racing schedule can be found here.
Reach contributing writer Jordan Duncan at sports@dailyuw.com. Twitter: @JordanDuncan43