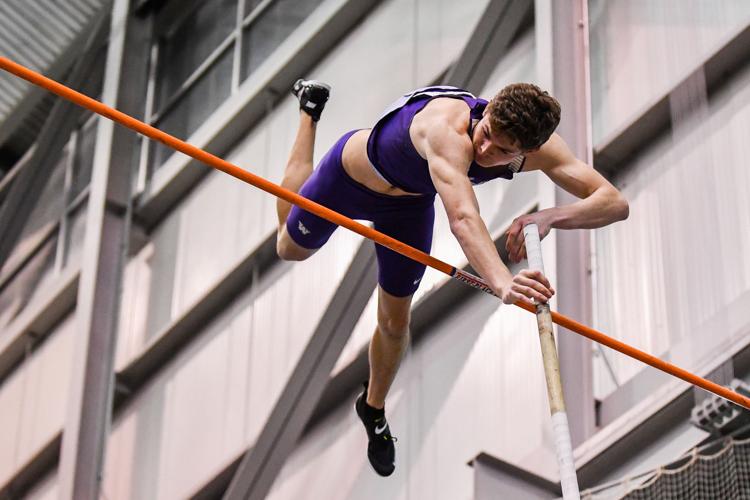 Coming into this season, pole vaulter Chase Smith had only competed in two outdoor meets since May 2017.
After about three months of recovery from a right medial meniscus tear early into his 2018 campaign and redshirting his past indoor season, Smith is just now getting back into competitions.
"I am more than excited, I feel pretty greedy right now," Smith said. "We're always taught to be good-hearted and whole-hearted people off the field but we're always coached to be as greedy as possible on the field, meaning we're not there to compete and hangout with people, we're there to get there, get PR's, get records."
The junior took no time getting greedy early this season, getting an outdoor PR of 17 feet and 7 inches at the Stanford Invitational, just his second meet.
It was a big jump for the junior, but he was prepared for the leap after all the adversity.
"Having to go through surgery and stuff like this, I feel like I lost three months of good training, but it hasn't really seemed like that with the coaching changes, coach Toby Stevenson I think is doing a phenomenal job," Smith said.
Stevenson came to Washington after a four year stretch with Kentucky, he made the move along with national champion pole vaulter Olivia Gruver.
"I love Olivia, she's a fantastic teammate, she's kind of got a no-B.S. attitude, she's always working towards a goal, and it's nice to have somebody like that to train with," Smith said. "It's nice to have another national athlete train with you."
Gruver and Stevenson aren't the only people in the junior's corner. His father, Peter Smith, also comes to many of his son's meets. According to Chase, he loves to watch pole vault and talk with the team. Smith says he's learned a lot from his father, who is a former pole vaulter himself.
"Maybe not necessarily technique or pole vault-wise, but a lot about humility, like holding a state record, or being a good person even though you're a decent athlete," Smith said. "It's not easy to stay humble, but he was big in that."
Chase Smith now heads to Long Beach, Calif. for the Beach Invitational on Friday and Saturday.
Reach reporter Josh Eddy at sports@dailyuw.com. Twitter: @JoshTreEddy
Like what you're reading? Support high-quality student journalism by donating here.