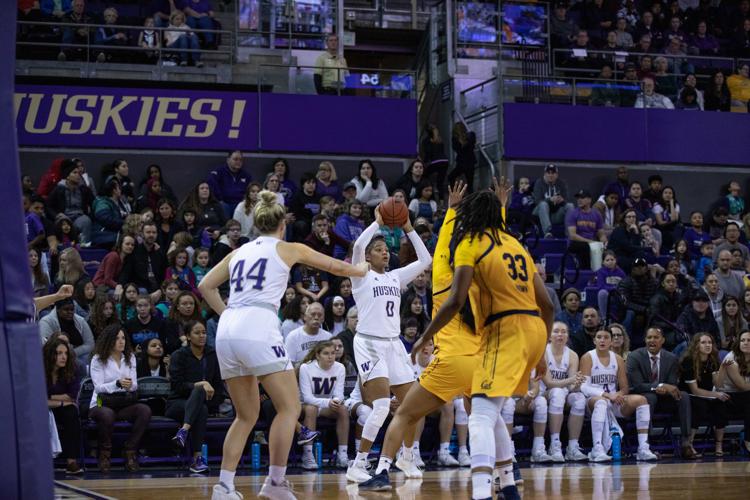 It may seem weird to say that the Washington women's basketball team has momentum considering it has lost its past eight games, but the way the team finished its most recent outing against California could be a positive sign for things to come.
A simple look at the final score says that the Huskies lost 81-74 and fell to 0-4 in overtime games, but the tale of the game tells a different story.
Washington entered the halftime break with a 19-point deficit, at home to the team in the Pac-12 with the worst record in conference. Instead of rolling over, the Huskies fought back, softening the lead to just 13 going into the final minutes before reeling off a 16-3 blitz to tie the game up and nearly win it at the horn.
Despite falling short in overtime, head coach Jody Wynn was very impressed with the tenacity.
"I told the team how proud I was of just their team effort that they displayed on the court, and I said it was a courageous effort," Wynn said. "And it's a mark of wonderful character to come together and not quit when things aren't going well."
Like all games, there were lessons to be learned from the team's eighth straight loss. 
"I'm just really proud of the fact that things weren't going well offensively for us, but defensively we got ourselves back into the game by making plays and forcing turnovers," Wynn said. "Which led then to more offensive possessions, and when we're not shooting the ball as well as our opponent, we need more possessions."
One player that's really started to shine during the past few weeks has been freshman center Quay Miller. This past weekend, she scored back-to-back double-digit games for the first time in the purple and gold.
"She's learning, she's learning the system, she's putting in a ton of extra time on her own, learning our play calls that she didn't know in the beginning of the year," Wynn said. "She's having a much better understanding of defenses, and she's playing harder." 
In her past four games, Miller has recorded 40 points, 18 rebounds, six steals, and five blocks. On top of that, her time on the court has gone up, averaging more than 23 minutes per game. She only averaged 13.3 minutes in her first 16 contests with the Dawgs
"You're gonna be rewarded for playing hard, for understanding what you're doing on offense and defense, and performing," Wynn said. "There's no free handouts, you're earning your time and she's earned more and more time as the season has progressed and the coaching staff is very happy with her improvements."
Finding the improvements and silver linings amidst an eight-game losing skid may be helpful for this team to bounce back with another week at home against two teams in the bottom half of the conference.
Washington will first take on Utah Friday at 7 p.m. and then host Colorado on Sunday at noon to close out the four-game home stand.
Reach reporter Josh Eddy at sports@dailyuw.com. Twitter: @JoshTreEddy
Like what you're reading? Support high-quality student journalism by donating here.