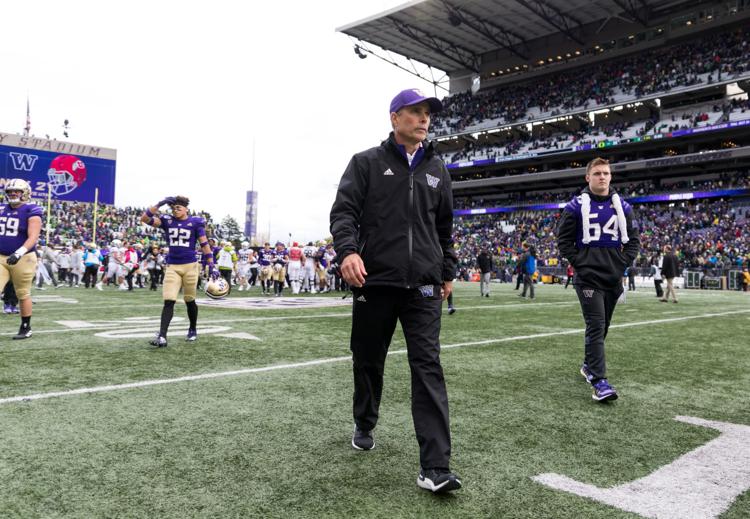 For a minute, it looked like the No. 25 Washington football team would pull off the upset, with a two-touchdown lead in the early stages of the third quarter. That, however, was not meant to be as No. 12 Oregon went on a 21-3 run in the final 25 minutes to win 35-31. 
Clinging desperately to a 31-28 lead late in the fourth, the UW offense stalled several times on offense, and the Ducks (6-1, 4-0 Pac-12) took advantage. With 8:36 on the clock, Oregon manufactured a 70-yard touchdown drive, capped off by a short pass from Justin Herbert to Jaylon Redd to take the late lead. 
The Huskies' (5-3, 2-3 Pac-12) offense had five minutes to work with to try and take the lead back. After driving down to the Oregon 35-yard line, the UW failed to convert on a fourth-and-short, and the Ducks bled the clock out. 
Scoring 28 points through 32 minutes of game time wasn't enough to hold on to the win, as the Huskies were held to three points in the final 28. 
"We hit a wall," center Nick Harris said. "They made plays and kept themselves in the game. We just didn't make enough plays in the fourth quarter. We played great football through three quarters, and then that fourth quarter we didn't make enough plays."
Before the final quarter, the Huskies had arguably one of their better performances on offense of the season. Jacob Eason had thrown for over 200 yards and three touchdowns. Salvon Ahmed was well over the 100-yard mark, even without fellow tailbacks Sean McGrew and Richard Newton. UW's injury-riddled receiver group was producing in ways it hadn't yet this season, with true freshman Puka Nacua and junior Jordan Chin catching touchdowns.
"It doesn't really mean anything," Ahmed said of his career day. "We didn't get the win."
Now the Huskies are limping into a bye week after losing to a bitter rival and having lost two of their last three games. Two wins against the Pac-12 South's USC and Arizona look unimportant next to an 0-3 record for the UW against the Pac-12 North's Cal, Stanford, and Oregon. 
After eight straight weeks of football, Washington finally gets its rest. 
"We have to overanalyze everything," Ahmed said. "We have to go back and really look back at what we're doing on offense and see how we can be better for our team."
Addressing Washington's wounds
A bye week is much-needed for a squad who is down a couple of key contributors on the offensive end. Leading receiver and punt returner Aaron Fuller was limited Saturday afternoon for the Huskies, to which after the game head coach Chris Petersen said he was "banged up." Fuller played sparingly, only appearing for a single punt return and the opening kickoff. 
In his place, senior receiver Chico McClatcher handled punts, but was pulled from the game after suffering what appeared to be a leg injury late. Petersen did not have an update after the game on McClatcher's status, but the senior was seen in a walking boot on the sideline. 
Junior tailback Sean McGrew was another late scratch from the UW lineup, as he was seen on the sidelines in street clothes before and during the game. Petersen said that McGrew was also "banged up."
Reach Sports Editor Alec Dietz at sports@dailyuw.com. Twitter: @AlecDietz