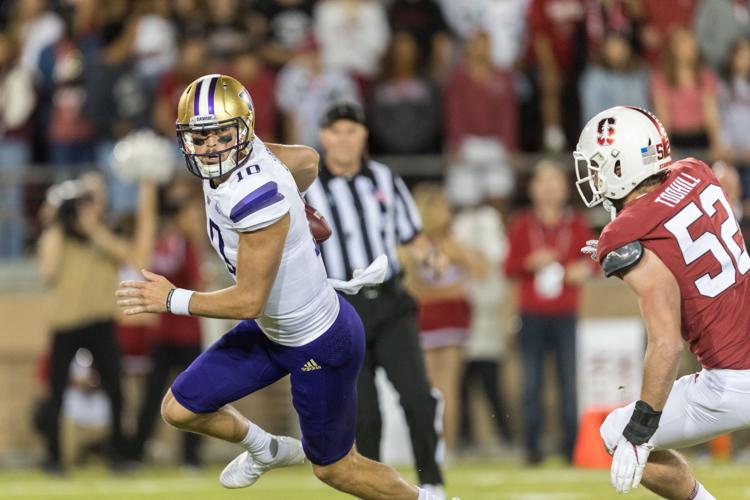 Now unranked, the Washington football team is looking ahead to its matchup against Arizona this weekend after a troubling game against Stanford last Saturday. 
Troubling, for several reasons. 
"It's terrible, but you have to learn and adjust quick," outside linebacker Ryan Bowman said. "We can't spend our week with our heads down, we have to attack this week. We can't be all heartbroken about the game, we have to be ready to get after guys, and that's what we're going to do."
A 23-13 drubbing at the hands of the Cardinal has been pegged as the worst in the Chris Petersen era by some, and now the Huskies (4-2, 1-2 Pac-12) have to move forward and play in a stadium and state that has not been kind to them. 
In the last 20 years, Washington has only won six of its 20 games played in the state of Arizona. The last time the Huskies played Arizona was in 2016, when the Dawgs were pushed to the brink in a 35-28 overtime victory against a Wildcats squad that finished the year with three wins. 
Along with the challenge of traveling to Tucson, Ariz. the Huskies are on the heels of a gut-wrenching road loss.
"It's a resilient program, it always is," offensive coordinator Bush Hamdan said. "Each week is a new week, and these guys understand that, and they go to work regardless of the outcome. That's our mindset, we've put that last one behind us." 
As always, the Huskies are deflecting questions on their road struggles, and issues in Arizona, and focusing on themselves instead. But Washington knows the challenge that awaits with explosive opponents like Khalil Tate and J.J. Taylor waiting for the Huskies at Arizona Stadium.
"Explosive plays are contained from the back end, but disrupted from the front end," defensive line coach Ikaika Malloe said. "We have to create sacks, we have to create turnovers. It can not be him running around because we didn't really disrupt him, that is his game." 
With one of the top rushing attacks in the conference over the past couple of seasons, the Huskies are looking to rebound from suspect run defense performances against USC and Stanford in the last two weeks. As they look ahead to another late, road matchup against a team with a perennially strong rushing attack, the Huskies are particularly focused on their opponent and the details this week in practice. 
"We're really focused on being deliberate in practice and really getting better," Bowman said. "We're trying to improve every period, we're not wasting any periods, we're getting better."
Reach Sports Editor Alec Dietz at sports@dailyuw.com. Twitter: @AlecDietz
Like what you're reading? Support high-quality student journalism by donating here.