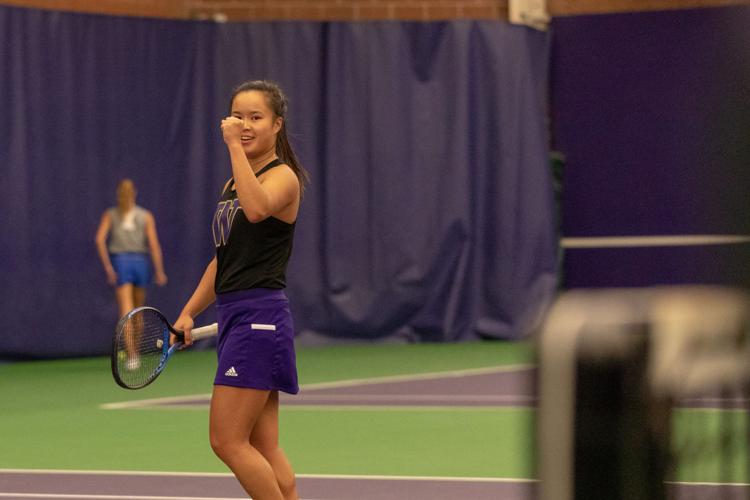 The No. 17 Washington women's tennis team closed out the ITA Kickoff Weekend Tournament with a narrow 4-3 victory against Kentucky.
Aiming to bounce back from Saturday's loss to Princeton, the Huskies came out of the gate strong, winning the opening doubles point. The only two losses for the UW this season have come as a result of dropping the doubles point, so this was an area they needed to improve and they did.
All three matchups saw Washignton take command. The sophomore duo of Nika Zupanic and Zoey Weil made a statement, winning their set 6-2 in a convincing manner. Their teammates maintained the high level of play with senior Katarina Kopcalic and sophomore Sedona Gallagher clinching the doubles point for UW with a decisive 6-4 victory.
"It felt good to start the match strong after the loss yesterday," Zupancic said. "I think this was one of the best matches that we've played this season and it was nice to get in the rhythm and feel the energy together."
The No. 1 duo of senior Natsuho Arakawa and junior Vanessa Wong had a 5-4 advantage when their set was left unfinished.
"It turned out to be huge. The doubles point is always great to get and I think just gives you momentum," head coach Robin Stephenson said. "I was really impressed with the quick turnaround how our girls made some adjustments they needed to make and came out in doubles the right way, played the right way and had the right mentality. It was really good to get that point and I thought we used the momentum going into singles really well."
The Huskies carried that momentum into singles play, cruising to some early victories. Wong (6-3, 6-3) and Arakawa (6-2, 6-4) finished their matches quickly and comfortably, putting the Dawgs in position to secure the victory. Both Wong and Arakawa remain unbeaten this season at the No. 1 and No. 2 singles positions, respectively.
However, the Wildcats battled back, putting the Huskies under pressure after winning two points. Weil fell to Anastasia Tkachenko in a third set tiebreak (6-2, 3-6, 6-7). Her doubles teammate Zupancic also came up short in the third set, losing 3-6, 6-2, 1-6. 
"The phrase getting better every day stands," Zupancic said. "I felt that the matches today were definitely better than the matches last week. There's still a lot of things to work on, but I feel the energy is right and the shots are correct."
The Wildcats pulled back the score to 3-3 overall after Kopcalic dropped her match against Carlota Molina (6-2, 5-6, 4-6), leaving one match to decide the contest for the second day in a row.
After losing in the final match against Princeton Saturday, UW came out with a victory due to Gallagher's clinching victory in three sets (7-5, 4-6, 6-4).
"It's always a lot of pressure when you're the last match because you want to win for your team, but you deal with it because you know your team is counting on you and you're focusing just like any other match," Gallagher said.
The Huskies look to build on this win, coming back to the Nordstrom Tennis Center on Friday to play Portland at 4 p.m.
Reach reporter Luka Kučan at sports@dailyuw.com. Twitter: @luka_kucan
Like what you're reading? Support high-quality student journalism by donating here.