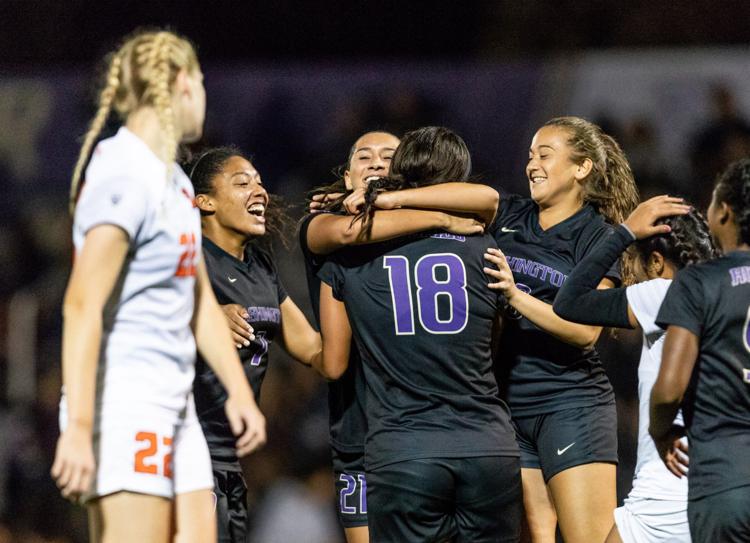 Shooting struggles and chippy play didn't stop the Washington women's soccer team from securing its first Pac-12 win of the season in a 1-0 takedown of Oregon State.
The Huskies (6-3-1, 1-1-0 Pac-12) put up 29 shots, their second-highest shot total of the season. It was the fourth time in the past six games that the Dawgs have put up more than 20 shots, but the fifth in which they were held under two goals. Head coach Lesle Gallimore wasn't concerned going in, though, because she felt the matchup created more opportunities.
"The style's a little bit different than what we've seen them play, so that made it more of a combative, balls-in-the-air, 50/50 balls, second balls," Gallimore said. "We had a really good high-energy, physical effort for 90 minutes."
It didn't take long for the Huskies to start up the attack, with four shots in the opening three minutes. By end of the first frame, Washington had put up 19 shots to Oregon State's three. That's two higher than the team's season average coming into the game and it only took 45 minutes, but the Dawgs were still scoreless at the break.
Early in the second half, midfielder Olivia Van der Jagt drilled a low shot to the right post, rolling just past OSU keeper Bridgette Skiba's outstretched arms. Van der Jagt's fifth goal of the season was the lone tally of the night, and she continues to lead the team in points with 11.
"Since we're playing as a team, it's easier to get those opportunities, and I think that's made a big difference," Van der Jagt said.
This game was anything but soft, with physical battles for possession up and down the sidelines and everywhere in between. Three yellow cards —  all in the second half — and 23 fouls piled up in the 90 minutes.
"We like to be physical, and if a team fights against us, then we're gonna fight back," Van der Jagt said.
Oregon State took a caution in the 73rd minute. Later, Ameera Hussen and OSU's Jessi Witherington were shown yellows within a two-minute span.
"I thought the game got a little bit out of hand," Gallimore said. "It was inconsistent, but I'm really proud of our team for kind-of sticking with it."
On the other side of the ball, the UW defense had another strong outing, securing its second shutout in the past three games. The Huskies held the Beavers to only four shots tonight, capturing its first win over OSU since 2015.
Washington closes out the weekend against Oregon Sunday at 2 p.m.
Reach contributing writer Josh Eddy at sports@dailyuw.com Twitter: @JoshTreEddy