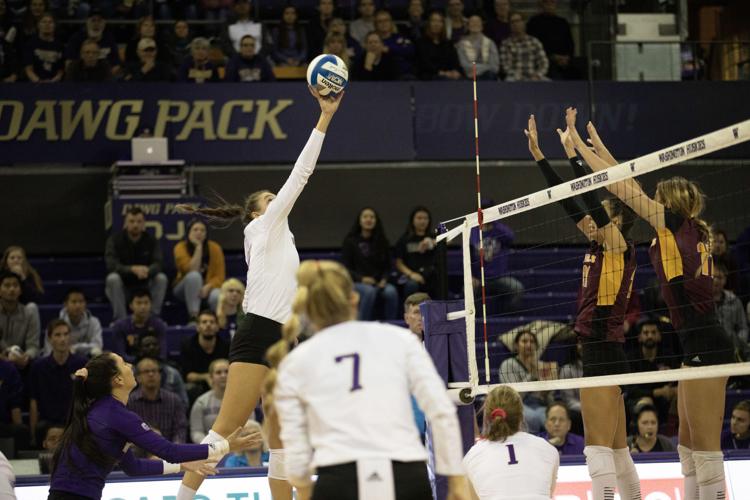 The No. 10 Washington volleyball team rolled over Arizona in four sets (25-23, 25-14, 21-25, 25-18) on Sunday in Alaska Airlines Arena. 
It wasn't the UW's best offensive game early on, with a noticeable number of unforced errors, but the same was happening on Arizona's side at a higher volume. That played a big role in helping the Huskies (15-3, 6-2 Pac-12) win the match. 
As the game went on, the offense on both sides looked better and better, and errors dropped. In the fourth set, Washington had only one error, while Arizona started picking up errors mostly toward the end of the set. 
Senior Kara Bajema was, as always, the leader on offense for the Huskies with 19 kills, hitting .300. Junior Sam Drechsel also added 17 kills, five blocks, and two aces to Washington's offense total. 
The Huskies were missing sophomore outside hitter Claire Hoffman and junior serving specialist Maria Bogomolova. Hoffman was out for the second straight game. 
The first set saw the Huskies out to a 21-13 lead over the Wildcats (11-9, 1-7 Pac-12) before things started to go wrong. A 7-0 run from Arizona including three hitting errors and a receiving error by Washington almost tied it up, 21-20, before the Dawgs managed to stay just ahead for the set win. 
In both the second and third sets the Huskies got out to an early 5-0 lead that provoked an Arizona timeout. That early lead was maintained for the rest of second set, where Washington held the Wildcats to a -.073 hitting percentage and beat them by 11 points. 
In the third set, Arizona managed to tie the match 15-15 and take the lead as part of a 9-0 run. The Wildcats kept that lead for the rest of the set and took the win, making it 2-1 Huskies. 
The fourth set was close until the end, when Washington pulled away with a 6-0 run to make it match point, 24-17. After one more score from Arizona, Drechsel closed out the match with a kill. 
Next week Washington will head to the mountain schools, playing Utah on Friday at 6 p.m. PT on Pac-12 Networks, and Colorado on Sunday at noon. The Colorado match will be broadcast by team livestream. 
Reach reporter Hailey Robinson at sports@dailyuw.com. Twitter: @haileyarobin