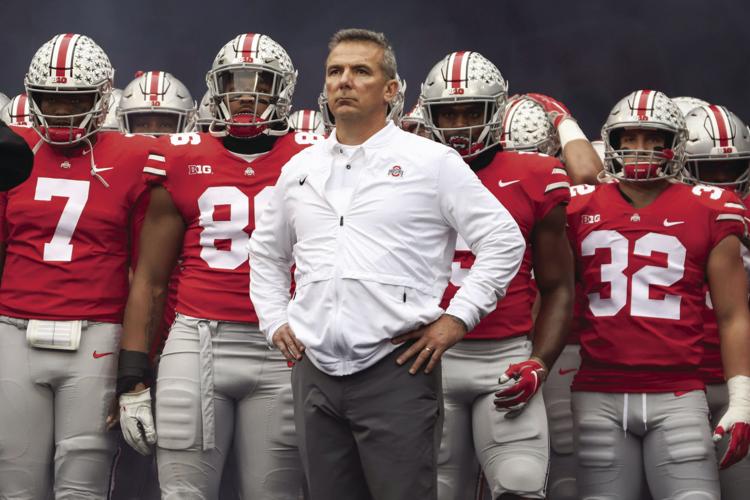 For the third straight year, the No. 9 Washington football team will go into a New Year's Six bowl game as the underdog, facing up to Big Ten champions No. 6 Ohio State. The Buckeyes (12-1, 8-1 Big Ten) had a say in the College Football Playoff discussion going into the final selection, but a trip to the Rose Bowl is more than a fine consolation prize. Here's what to know about OSU going into New Year's Day.
3 numbers to know
4,849: Ohio State has always had one of the better offenses in the defense-heavy Big Ten, but unlike its more traditional run-first attacks of years past, this year's version of OSU is slinging it as well as anyone in America. The Buckeyes lead the FBS with 4,849 passing yards, nearly 300 more than second-place Washington State, which has 104 more attempts.
A good deal of Ohio State's success has to do with sophomore quarterback Dwayne Haskins, who ranks near the top of the FBS in pretty much every passing statistic, including leading the country with 47 passing touchdowns.
23: On the flip side, Ohio State's defense has had its issues, especially in limiting explosive plays. The Buckeyes have allowed 23 runs of 20 yards or more this season; for comparison, Washington has allowed six, all in separate games. OSU has given up six runs of 70 or more yards.
1,002: Big games often come down to crucial mistakes and breakdowns in discipline, and this Ohio State team has shown that it can be prone to those. The Buckeyes are tied for last in the FBS with 1,002 penalty yards this season, as one of just two teams to over 1,000. A little bit of that can be chalked up to OSU's extra game, but its 77.08 penalty yards per game is still second-worst among Power 5 teams. Ohio State is one of just six FBS teams to have racked up 100 penalties or more.
2 names to know
Urban Meyer: On one hand, he's one of the most successful head coaches in college football history. On the other hand, his 2018 season has been mired with controversy stemming from the domestic abuse allegations against his assistant coach. Now Meyer has announced that the Rose Bowl will be his final game before retiring due to health concerns, though he did make the same announcement twice as the head coach at Florida nearly a decade ago.
Whether this is Meyer's final encore or not, the spotlight will be on him in almost entirely come Jan. 1.
Dwayne Haskins: We mentioned him above, but if there's one player to watch come New Year's Day, it's No. 7 in scarlet and gray. The OSU quarterback is averaging 362 total yards per game, better than 28 FBS teams. Haskins has thrown the ball 30 times or more in all but one game this season, but has been held to a completion percentage under 60 just twice, and has a passing touchdown in every game. While the OSU offense isn't dependant on his running ability, he is very capable with his feet; in the Buckeyes' overtime win against Maryland, he had three rushing and three passing touchdowns.
1 recap of last game
Ohio State faced a rather similar situation to Washington's at the end of its season. After clinching their division against the second-best team in its conference — and their rivals — the Buckeyes faced an overmatched squad in their conference title game. In OSU's case, it rolled over No. 22 Northwestern after its real test against No. 7 Michigan.
Haskins put on a show, going 34-for-41 for 499 yards and five touchdowns. The OSU defense allowed 418 total yards, but forced three turnovers in an easy 45-24 win over the Wildcats.
Reach Sports Editor Josh Kirshenbaum at sports@dailyuw.com. Twitter: @J_Kirshenbaum