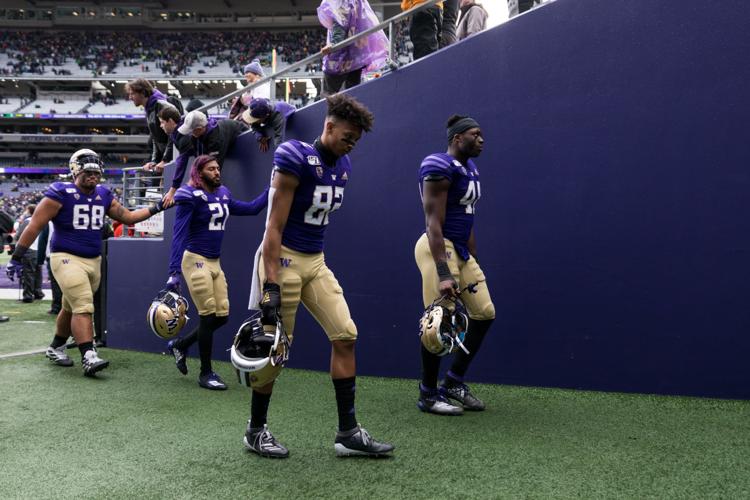 It was so close, but the result, once again, was the same. 
The No. 25 Washington football team led for much of its game against No. 12 Oregon, taking a two-touchdown lead one possession into the second half. But once again, the Huskies couldn't get over the hump, this time falling pretty much out of the race in the Pac-12 North in a 35-31 loss.
"It always hurts to lose, no matter who we lose to," senior center Nick Harris said. "But given that we were playing well and we just couldn't finish that fourth quarter, it hurts."
Washington is still in one of its best runs in program history. The Dawgs are coming off of three 10-win seasons, and can still make it four if (and this is a big "if") they win out. But Saturday was another chapter in the main blot on the era: an inability to get a signature win.
Think about the Peach Bowl in 2016, the Fiesta Bowl in 2017, and the Rose Bowl last year. Think about facing a top-10 Auburn in pretty much a road environment, and taking on Oregon last season in an even more hostile setting.
Since their playoff loss to Alabama to end 2016, the Huskies are 2-4 against teams ranked higher than them. Take out Apple Cups, and that record goes to 0-4. In that span, Washington is 3-6 in games against teams ranked higher than No. 20; take out WSU and it slides to 1-6.
Saturday, the Dawgs were so close. In their second straight back-and-forth matchup against the Ducks, they held a lead late. Even when they went down they still had a chance to come back, opening their final drive with a 22-yard completion from Jacob Eason to Cade Otton and rolling into Oregon territory.
Then Jacob Eason took a 12-yard sack and Trey Adams got called for a false start. A UW crowd that had been rocking all day long was suddenly overcome in noise by the Oregon corner of Husky Stadium. And three kneel-downs later, Washington had once again come up short.
Don't get it twisted: Washington was punching above its weight today, against a higher-ranked team without Sean McGrew, without Richard Newton, and pretty much without Aaron Fuller. And it's not that these games should be easy wins; it's not even like Washington should win most of them at all. The other teams come in ranked for a reason. This year was supposed to be a bit of a step back anyway, with a defense that had to replace nine starters and an offense replacing Jake Browning and Myles Gaskin.
But for two quarters, that defense held Oregon's rushing attack to 46 yards on the ground. For three, the offense looked as good as it had been in the second half against Arizona last week, putting up points in five of its first eight drives.
Once again, though, enough things just couldn't go right. Multiple players said the Ducks were doing the same things in the second half as they were the first. Washington just couldn't finish.
"I can't really put a finger on it," Harris said. "They weren't doing anything different. We were blocking the same fronts, we were doing the same things. We didn't execute like we were the first three quarters."
After the game, head coach Chris Petersen said the difference, especially on third downs, simply came down to "willpower." 
So once again, Washington fans will be left feeling much the same way as they did after the losses to Penn State and Ohio State, when the UW fell behind early and just didn't have quite enough time to complete a comeback. They'll definitely feel like they did last season against Auburn and UO, when the Huskies came oh-so-close but couldn't seal a win.
"Any kind of loss sucks," Myles Bryant said. "Not much we can do about it now, just watch the film, get better from it, and just keep working."
But this type of loss? It's one that'll leave a bad taste in everyone's mouth. Not of a bad game necessarily, but of a missed opportunity. Once again.
Reach Managing Editor Josh Kirshenbaum at sports@dailyuw.com. Twitter: @J_Kirshenbaum
Like what you're reading? Support high-quality student journalism by donating here.