One of the first things that Evanni Roberson noticed after landing her first perfect 10.000 on the beam for Washington gymnastics in a meet against Arizona at Hec Edmundson Pavilion was the scenery filled with familiar faces of old teammates, friends, and family in the crowd.
"Things seemed to come full circle for me as I grew up watching Washington gymnastics," Roberson said. "In a sense I feel like by competing for Washington, I was able to do my part in giving back by inspiring all the little Washingtonian gymnasts to also follow their dreams."
Roberson, who entered the program four years ago as a local from Puyallup, Washington, had the special experience of performing in front of those she grew up with. And four years after her arrival, UW fans have seen her become one of the most accomplished gymnasts in program history.  
The senior had been involved with Washington gymnastics long before she donned the purple and gold leotard, coming to meets since she was young. Now though, Roberson's legacy stretches far beyond the record books she etched her name in this year. 
While being recruited, Roberson already felt at home with the team and was welcomed on by head coach Elise Ray-Statz. She is grateful to have been given the opportunity of staying in proximity to home.
"I remember when I was a senior I would sometimes pop into the gym when the girls were practicing to say hi," Roberson said. "And I just remember the girls and coaches being so excited to see me and made me feel like I was a part of the team before I ever even got there, which made me feel comfortable and reassured."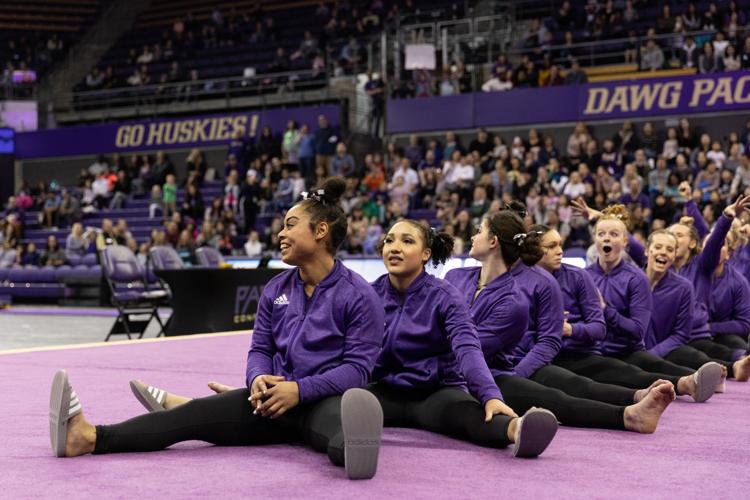 Four years later, and now at the end of a remarkable gymnastics career, Roberson cemented her legacy by becoming the first ever Husky to land not only one, but two perfect scores on the beam in program history. She is also just the fourth UW gymnast to ever earn multiple 10s in one season. 
While she did not compete her freshman year, dealing with an injury the entirety of the season, Roberson burst onto the scene during her sophomore year when she competed in the national championships, earning a 9.825 on bars and a 9.8375 on floor.
Making nationals in 2017 for the first time was one of the most special moments of Roberson's career, but looking back on it now knowing that was her final national competition leaves a lingering feeling of bittersweetness.
"I didn't know that was the last postseason meet I would participate in," Roberson said. "But again, there is nothing we can do to change the situation now. I have to take my accomplishments and be okay with how things turned out believing that everything happens for a reason."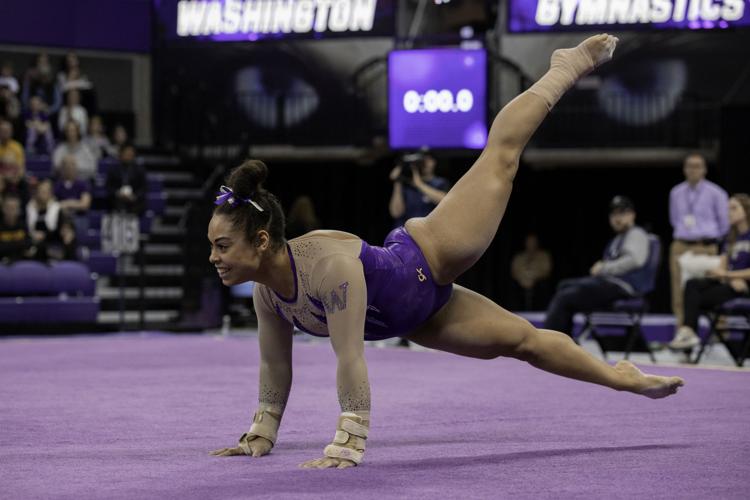 Roberson's teammates and coaches nominated her as team captain for her junior season. Late into the season though, she was forced to deal with a second injury and was unable to participate in the Pac-12 championships and the regional competition. The Huskies did not qualify for the NCAA championships that season, yet that didn't define Roberson. Instead, it strengthened her desire to achieve more her senior year.
After a successful start to her final season, Roberson earned the most All-Around and beam titles in program history and earned two All-American awards as well as an All-Pac-12 honor. According to assistant coach Ralph Rosso, her success was an accumulation of four years of dedication and hard work.
"Evanni's name will be forever etched in the history of UW Gymnastics," Rosso said. "But what is most important is the impact she had in the development of the culture of this team, the expectations, the right ways, what it truly means to be a GymDawg. That is going to be retaught every year by those who follow her."
As the NCAA put a halt to all spring sports, it canceled the regional and national competitions for gymnastics as well. Roberson and the rest of the seniors performed their final meet in Denver on March 6. Not knowing it was their final meet, the news broke out only two days prior to their senior night scheduled against Seattle Pacific.
The NCAA extended the eligibility of spring sport student-athletes following the cancellation of their season due to the COVID-19 outbreak. However, winter athletes which includes gymnastics, won't be given a year back despite having their season cut short. For Roberson, that means her career with the Huskies is all but over.
The Washington gymnastics team posted one of the most accomplished and successful seasons in program history, on the right trajectory to make it far into the postseason, with Nationals being the ultimate goal. To Roberson and the seniors, it was heartbreaking and disappointing to see that opportunity be abruptly stripped away for this record-breaking season.
"I think being a senior this hits a little harder because we won't ever have the opportunity to compete in the postseason again, let alone NCAA championships," Roberson said.
But Roberson's inspirational effect leaves an impact both on and off the competition floor. Senior Maya Washington, who has been inseparable from Roberson for the past four years, describes her interaction on the team as admirable, saying she is an example of dedication and working towards the right things behind the scenes and in competition.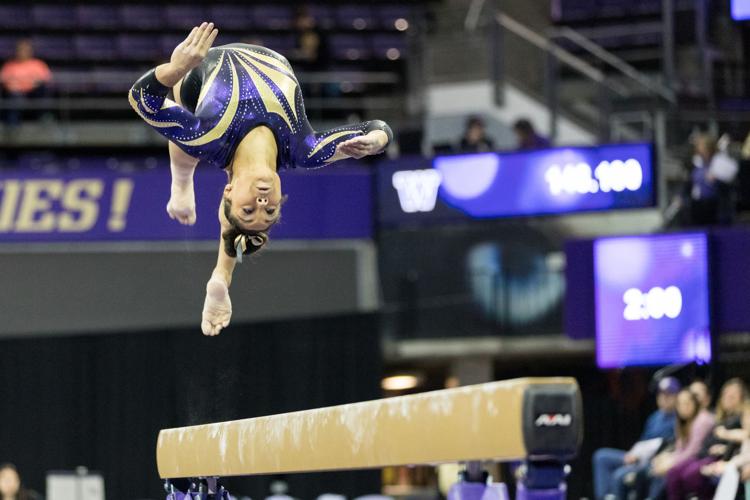 "Her name is now engraved in history books not only for UW gymnastics but for NCAA gymnastics as a whole," Washington said. "I think the best part about her time at UW is that she will not only be remembered for her remarkable gymnastics, but her positive energy she brought for her team each day. She truly impacted this team in more ways than one."
Although Roberson's opportunity to leave a final mark for the Huskies was taken away, her accomplished career and dedication to inspiring young Washingtonian gymnasts leaves a stronger desire for her underclassmen teammates to strive for more next season.
"I think we are always going to feel like we had more to give this season, because we did," she said. "But as a class we have to remember that just because our season was shortened, does not mean everything we have put into this program over the last four years gets erased or will go unnoticed."
Reach reporter Monserrat Villaseñor at sports@dailyuw.com. Twitter: @monsevillas 
Like what you're reading? Support high-quality student journalism by donating here.